The idea behind this blog is to share the experience of researching, printing and hopefully exhibiting the found plates by Serge Arnoux. Along the way it will of course touch on the background and work of William Blake, in most instances by invited guest contributors much better qualified than myself to write about him. A quick google search will tell you just how popular Blake now is and there are a myriad of sites out there about him. I am contributing articles to https://findingblake.org.uk/ who I find an excellent source of information.
When I first bought the plates from the scrapyard they were all wrapped in brown paper and labelled in French. One of the first plates that I translated was "If a Fool would persist in his Folly, he would become wise." I had visited the Tate Gallery a couple of years back and had seen the mosaics based on the "Proverbs of Hell" by Boris Arnep and remembered that this particular one was featured. Fate seems to playing a part in this project so thought it might be interesting to compare their respective approach to the William Blake.
Boris Arnep
Boris Anrep, (1883-1969) was born in Russia but settled in Britain where he established a reputation making mural mosaics. One of his works was "Labours of Life" completed in 1928, a marble mosaic, set into the floor of the West vestibule of National gallery. He was an associate of the Bloomsbury Group, championing modern art and attitudes,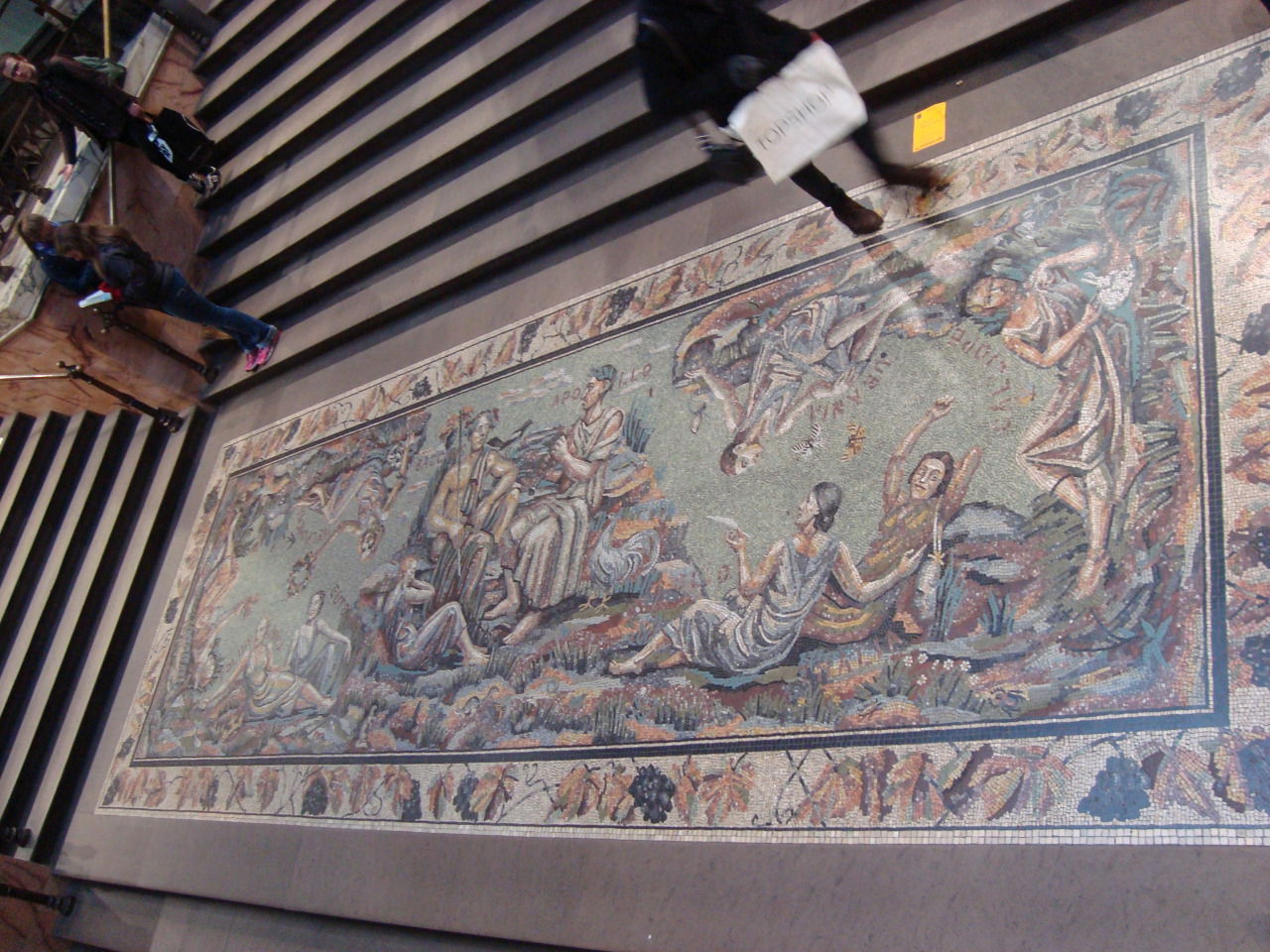 "Labours of Life" This mosaic illustrates Man's constructive and creative nature such as 'sacred love' depicted by a family, Russian Art + Culture
Boris Arnep - Tate Britain, Mosaic Pavement Gallery II
He made a number of installations/commissions for the Tate Gallery in London. One of these commissions was for a mosaic based on the text of the 'Proverbs of Hell' by William Blake from The Marriage of Heaven and Hell. The work was done work during the period August and September 1923. It consisted of eight panels, each panel radiating outwards from a circle of flames The whole design is surrounded by a border of green mosaic and marble. The mosaic was executed in tessera of different coloured marbles.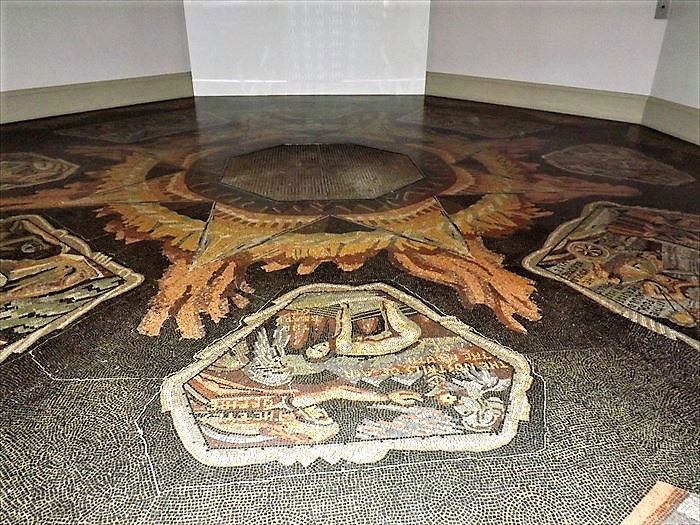 Installation at the Tate Gallery (Tate Britain)
I have now translated the French text from all of my found twenty seven plates and as it turns out, only one of them, "Exuberance is beauty", was actually included as part of the mosaic at the Tate Gallery. "If the Fool would persist in his Folly, he would become wise." turned out to have a completley different plate when unwrapped. Hopefully I will find it as the project develops!
This proverb is widely misinterpreted as meaning that we can make a wise man out of a fool. That is not so; what it means is that a fool who tries new versions of the same foolish thing will eventually discover the truth of the thing he's undertaking. It's another way of saying we learn by error. amerika.org I have to say, a bit like myself! Below is some of the detail from the Arnep mosiac at the Tate.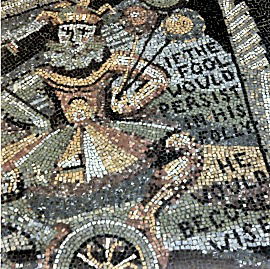 "If the Fool would persist in his Folly, he would become wise" Boris Arnep 1923
A Direct Comparison of the Two Artists Approach to "Proverbs of Hell" William Blake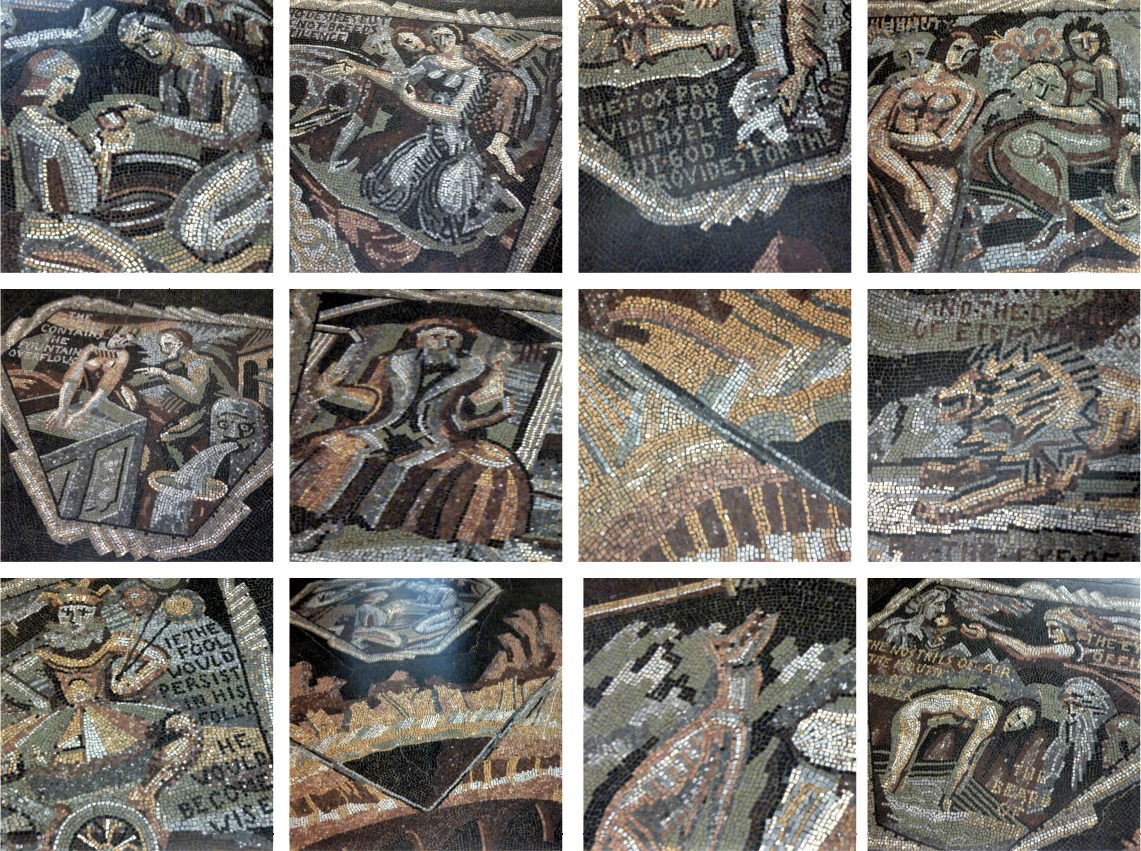 Boris Anrep Mosaics Tate Gallery London 1923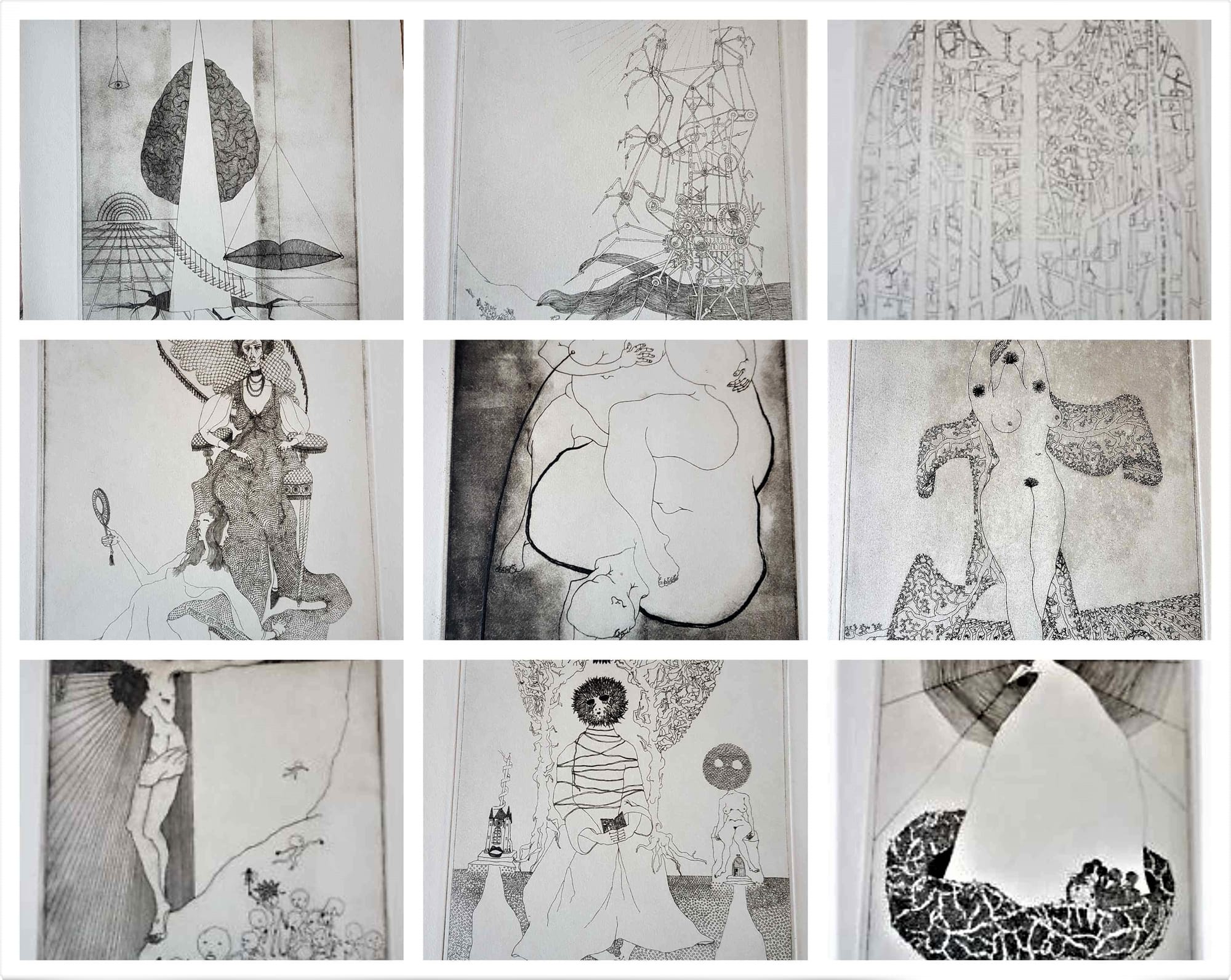 Serge Arnoux The Found Plates Sarlat 2018
It is fairly clear that there are two very different things going on here! Of course the artists are using two very different techniques and the work was made nearly fifty years apart so ideas and attitudes have changed not just in general terms but I would suggest also towards Blake himself.
The work of Arnoux is very much anchored in Surrealism. Breton officially founded the movement in 1924 when he wrote "The Surrealist Manifesto." No influence there for Anrep to draw on. However sex and nudity seems a major element in the work of Arnoux, a Surrealist obsession, illustrated well in at exhibition at Tate Modern in 2002 Surrealism: Desire Unbound.
Looking closely at Anrep's work he seems to have been an astute observer of people and this is reflected in his mosaics which I think must also have been tempered by his Russian character and upbringing in St Petersburg.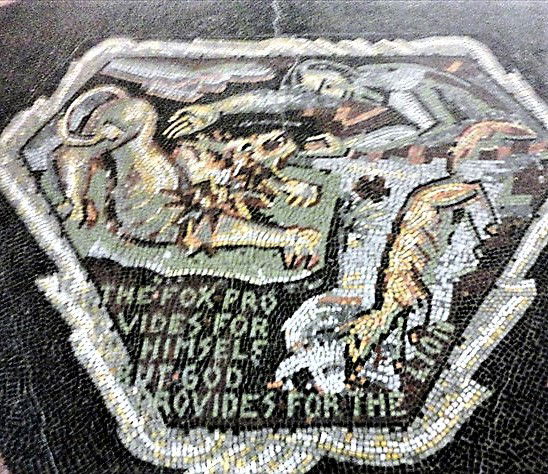 Philip Wilkinson writes in englishheritage.blog.com "There's quite a lot of tension in these mosaics. In 'The fox provides for himself, but God provides for the lion,' the lion has a bottom-up pose, a spiky mane, and prominent claws: a well-fed and powerful feline. The fox by contrast is long and rangy, with matchstick legs: providing for yourself can be a hard business.
Below is a proof print from the copper plate done by Serge Arnoux in response to "Exuberance is Beauty." I leave it to to you to figure out what it's about and what the equivilant Arnep version is from the panel above. For the moment it is down to your own analysis. I am pleased to say that for the next post a good friend Dr Philip Rayner will write an article about the "semiotics" of the image and the "reading" of the picture with particular reference to this and other Arnoux plates.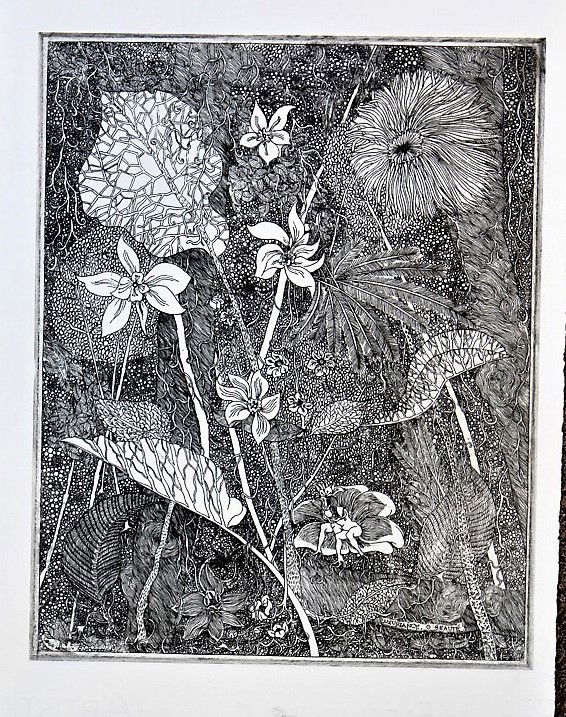 The following is a quote directly from kgbanswers.com when discussing "Exuberance is Beauty."

"Initially exuberance might bring to mind enthusiasm, but since it is a Proverbs of Hell we know that exuberance must be a concept at least traditionally associated with evil. Sources suggest that 'exuberance', in the context of Blake's other Proverbs, likely refers to excess of word, thought, or deed. Acting upon lusts, overindulging in pleasure, and pursuing one's own goals and ambitions at the expense of others – all of these are exuberant actions."
---