THE SERGE ARNOUX COPPER PLATE ENGRAVINGS
THE TRANSLATION
Discovered that all the French text for "The Proverbs of Hell" engraved on the plates were taken from a translation by Daniel- Rops from his book printed in 1946. Not sure why he chose this translation, as opposed a more recognised version by Andre Gidé 1922 but as in all things Blake it would seem the small but signicant variations in interpretation matter!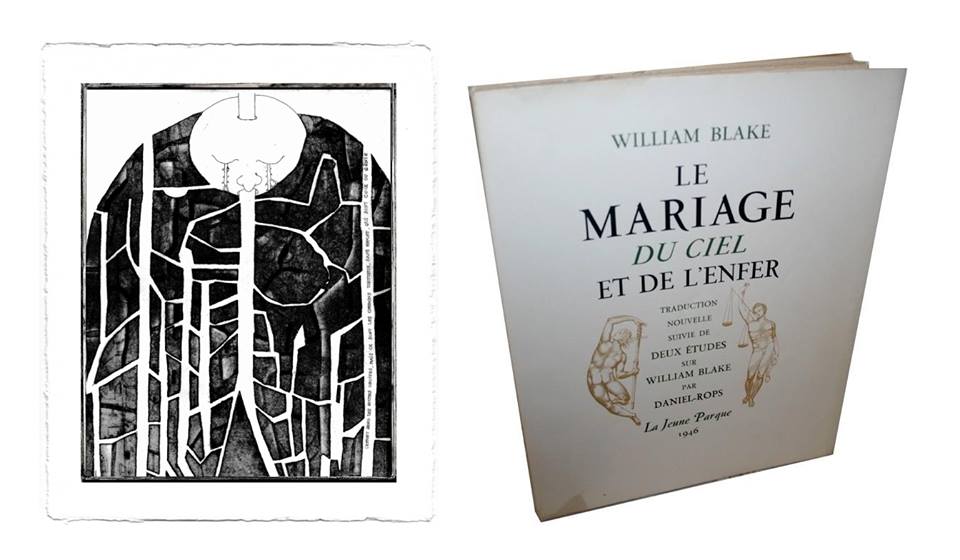 William Blake Proverbs of Hell
Improvement makes strait roads, but the crooked roads without Improvement are roads of Genius.
French translation André Gide 1922
La culture trace des chemins droits ; mais les chemins tortueux sans profit sont ceux-là mêmes du génie. (Culture traces straight paths; but the tortuous paths without profit are the very ones of genius.)
French translation Daniel Rops 1946 / Engraving Serge Arnoux circa 1967 / Printed RcH 2019
L'effort rend les routes droites, mais ce sont les chemins tortueux, sans effort, qui sont ceux du génie. (The effort makes the roads straight, but it is the tortuous, effortless paths that are those of genius)
THE PRINTING
I have now finished printing the first set of proof prints from the found plates which have been scanned and these will all be featured as a guest gallery on "FINDINGBLAKE" from end of April. The prints have been combined with the French and English text.


WHERE ELSE CAN YOU SEE THE PRINTS
I have printed the final edition prints for the upcoming exhibtion at L'Atelier de Melusine. After much experimentation I opted for a combination of Fabriano Rosapina Ivory paper and Gerstaecker Sepia etching ink. Both are new to me but the plates are a joy to wipe and print and hopefully the detail that Arnoux has included is clear.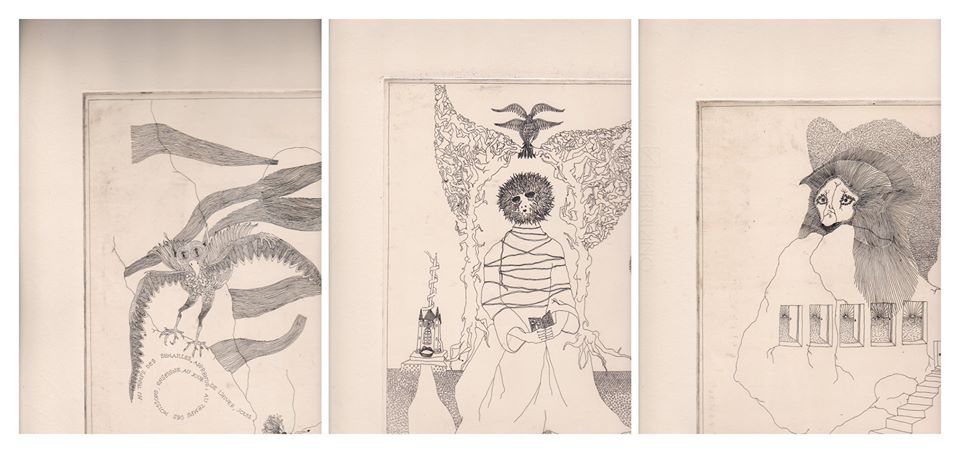 You can read more about the exhibition "Temporal Traces" from the main menu. The exhibitition has a strong European feel, the invitation having now been translated into French, Spanish, Czech and German to reflect the participation of contributors from those countries. Hugh Mcmillan has appropriately provided a translation for us "Scots" that are involved.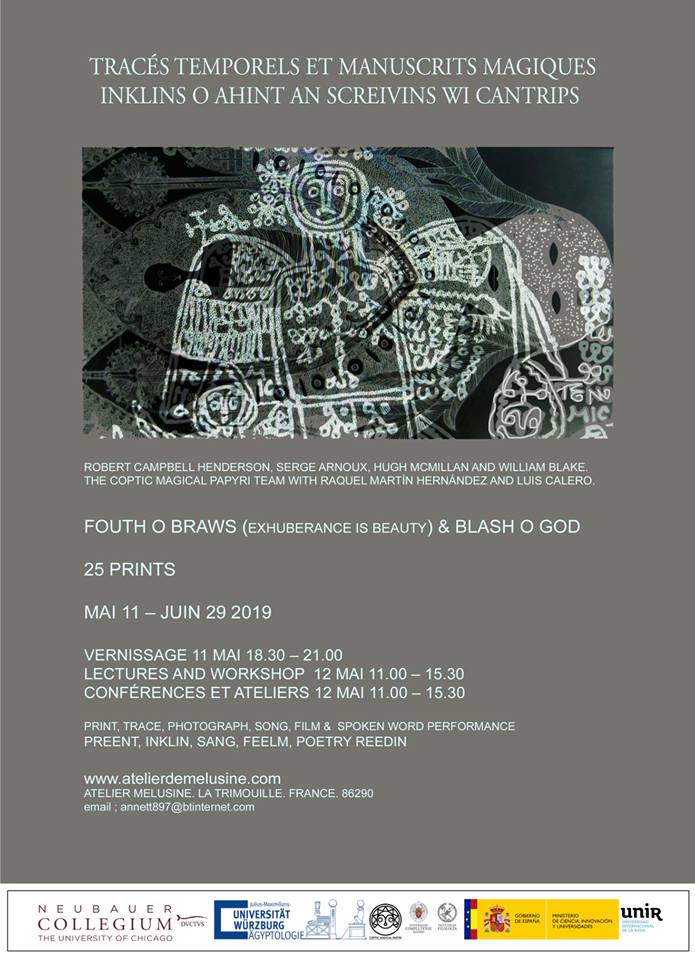 NEW WORK
Apart from reprinting the plates in as sympatheic a way as possible I decided to use them as the basis from new work. As part of my current collaboration with Hugh Mcmillan we have taken five of the plates not directly linked to Blake and Hugh has written new poems to sit along side my own colour interpretation. You can see and read all the poems in "The Arnoux Interpretations" in the THE POETRY CONNECTION gallery. I have also decided to make a colour series of all the plates using computer painting techniques and print using a combination of pigment based inks with high quality archival quality paper .You can see the the first twelve in the gallery RESSURECTION.Another Forteen images will be added early may.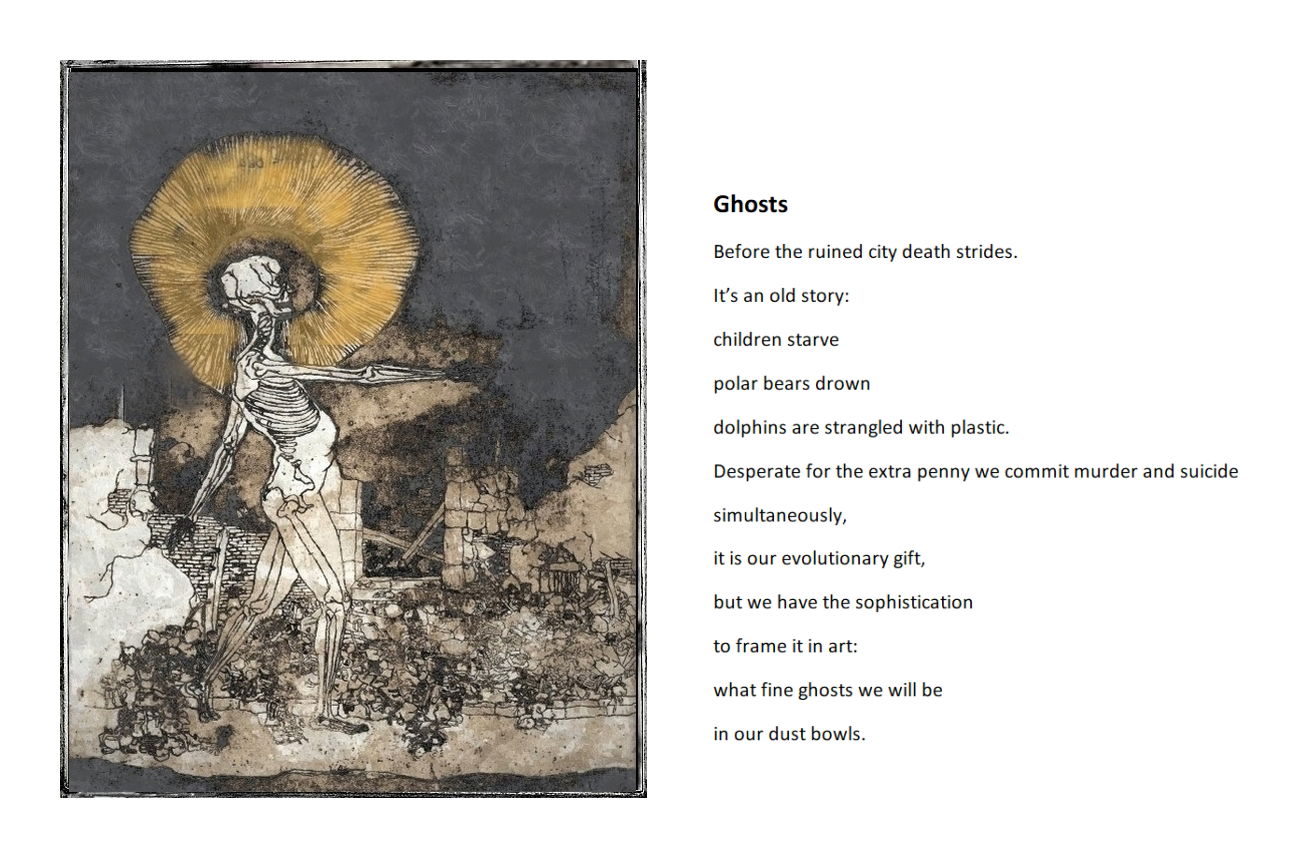 Based on the Serge Arnoux plate AUTOPORTRAIT 1967 Poem Hugh Mcmillan 2019
Colour Interpretation/Print RcH 2019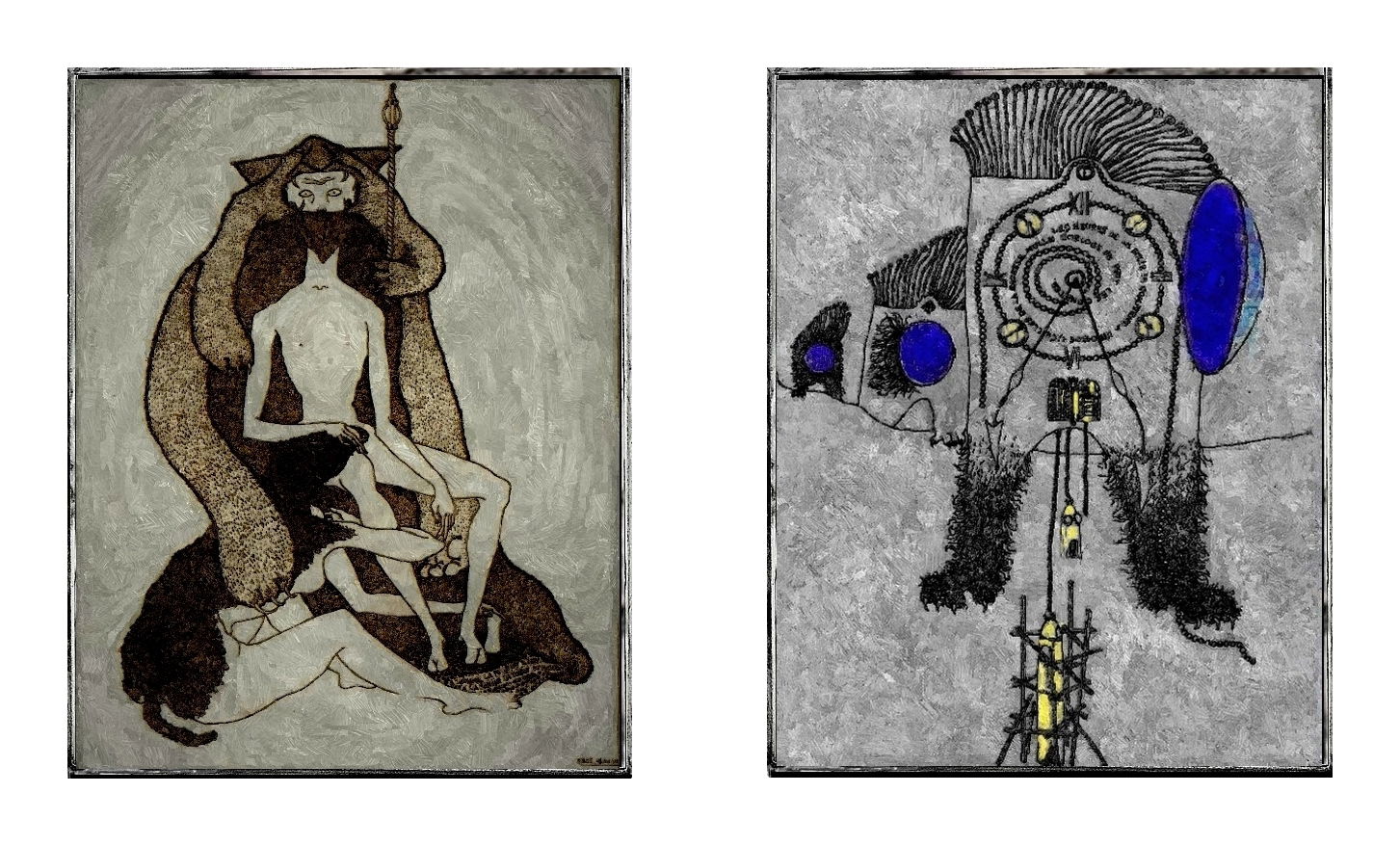 Illustrations/Engravings Serge Arnoux c 1970
Colour Interpretations/Print 2019
If you have 2min 55 seconds to spare you can see the updated version of "Dark Mirror" originally made in 2016 from the link on the menu. Decided to add some sound and opted for a poem by, William Blake. The voice is Aerendil Nubigena reading "Night" in 2014 from "Songs of Innocence". No idea who she is but I found this open domain unlimited licence version on the web and rather liked it.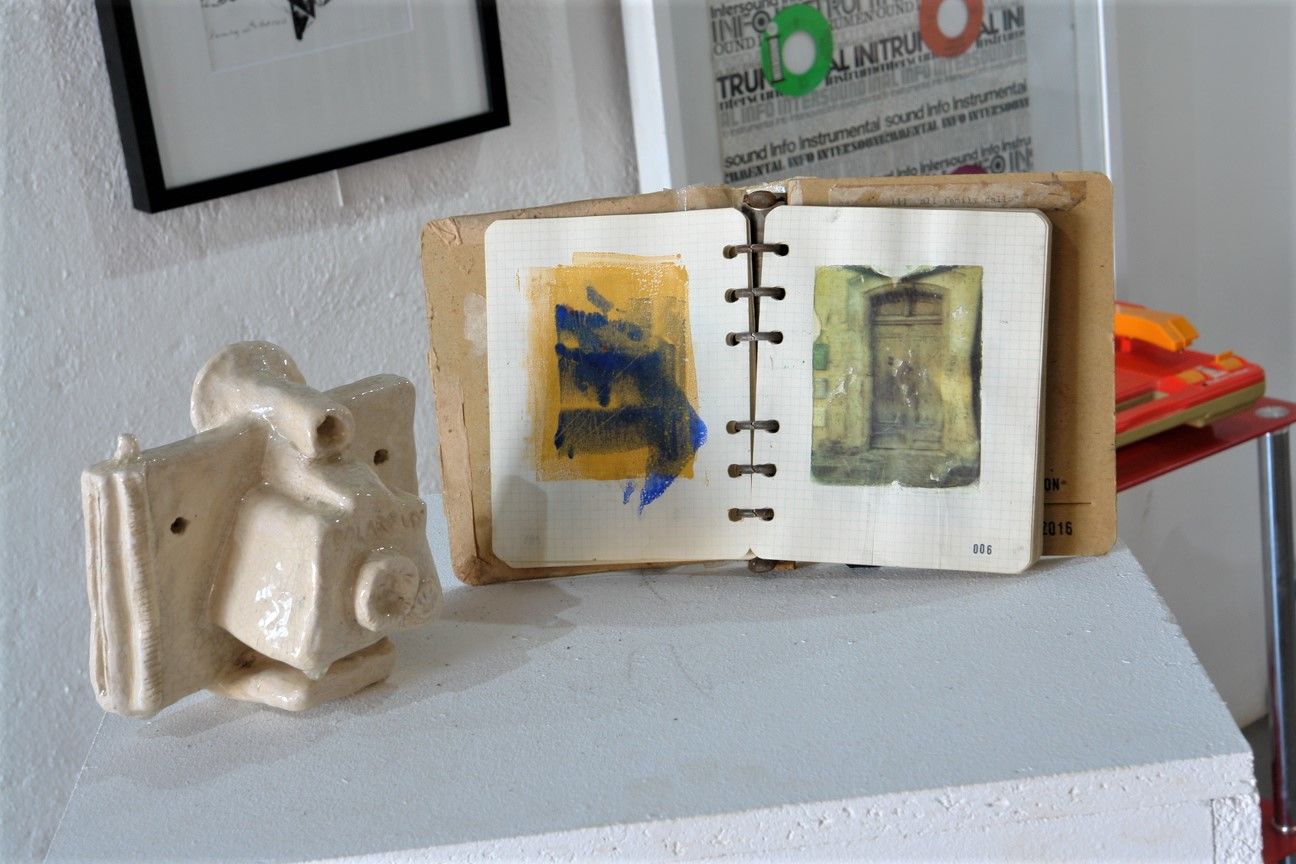 NEW FRIENDS
Since that fateful day I have made a whole batch of new friends. Martha Daura, the daughter of Pierre Daurra who worked closely and was great friends with Arnoux, contacted me via FINDINGBLAKE. She has been a great help and has provided me with loads of anecdotal information. She intoduced me to the Georgia Museum of Art USA who it turns out hold nine of the Arnoux prints in their archive. They also very kindly sent me copies of all the correspondence for the period 1967 - 1975 between Arnoux and Daura. In these letters they often exchanged ideas and discussed the creation of the "Proverbs of Hell" engravings. Through these letters I established that Léo Férré, who Arnoux often worked with, actually wanted to publish the work as a book. My own presentation echoes the intention set out in one of the letters as to how they were going to print them. I have subsequently made contact with the Léo Ferre archive and hopefully the work will be featured as part of one of the Férre Festivals this year. I also established that Arnoux worked with the poet WS Merwin who sadly recently passed away at the age of 92. I did make contact with the Merwin Foundation though and sent them copies of the work. Of course I mat Sally Annett who is curating the upcoming exhibition TEMPORAL TRACES and have just recently made contact with jazz greats Mike and Kate Westbrook who are great Blake fans. Sadly Patti Smith has been harder to make contact with but I am working on it!
That's it. Hopefully the title "Resurrection" makes some sense.