Where to start? Probably best at the end. Serge Arnoux was a printmaker and painter and died recently in 2016 at the age of 81. At the time he was survived by his wife Jeanne Marie, also a painter and writer and nearly 20 years older than him. She died in 2017 at the age of 101. They lived and worked in Glanes near St Cere in the LOT region of France. The printing plates were found in Sarlat about 50 kilometres from Glanes. Maybe after his wife's death there was some sort of house clearance and that is how the plates ended up in the scrap metal yard. Speculation on my part but it does seem plausible. So what else do we know about Serge Arnoux and in particular what could have attracted him to the work of William Blake.
According to one of the many societies, William Blake was never that big in France. He did however feature in transition an experimental literary journal that included surrealist, expressionist and Dada artists. It was founded in 1927 and published in Paris.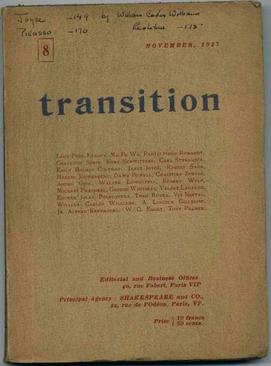 The following is a direct quote from the BLAKE issue archive Volume 43 June 2009:
"William Blake's presence in transition is surprising on more than one count. First, transition was mainly concerned with the French, American, and German cultures, and published few British or even Irish writers. Second, this magazine, like many others of the period, promoted unknown or little-known contemporary artists and writers. Therefore, the publication of Novalis, Schelling, Jean Paul, Saint John of the Cross, and Saint Teresa of Avila can be considered as exceptional. Blake appears in transition as the sole representative of the British literary past. The magazine quotes a fragment of his correspondence and also features him in an essay. Moreover, his Proverbs of Hell play a major role in the famous June 1929 "Revolution of the Word" manifesto."
Arnoux was just born when the publication was in circulation but he may well have been infuenced by Léo Ferré whom he became good friends with and collaborated with on a number of projects. Ferré was a poet, writer and composer and worked with the likes of surrealists André Breton and Benjamin Pére, poet Louis Aragon as well as Jacques Brel and George Brassens. I find it hard to believe that in their discussions over a "café or l'apero" the work of Blake and other literary writers and poets would not have been discussed. I know, pure guesswork on my part!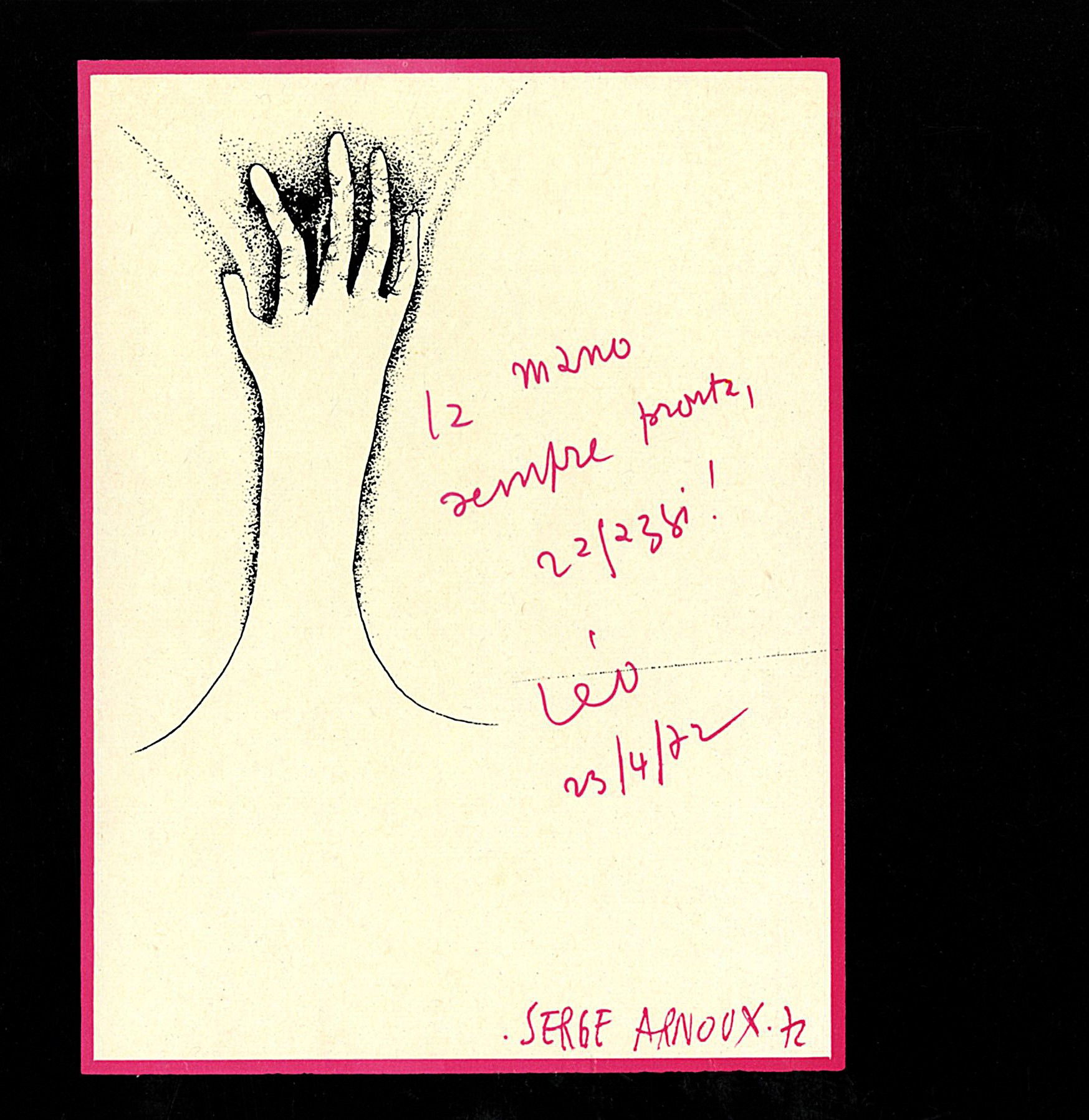 La Solitude vinyl album by Léo Ferré Illustration Serge Arnoux 1972

Arnoux also collaborated with the American poet M.S. Merwin who it would seem was influenced by the work of Blake even quoting him in The White House on becoming US Poet Laureate in 2010. Arnoux worked with him back in the sixties illustrating some of his poems. Initial research suggests that this collaboration was before his work on the Blake material.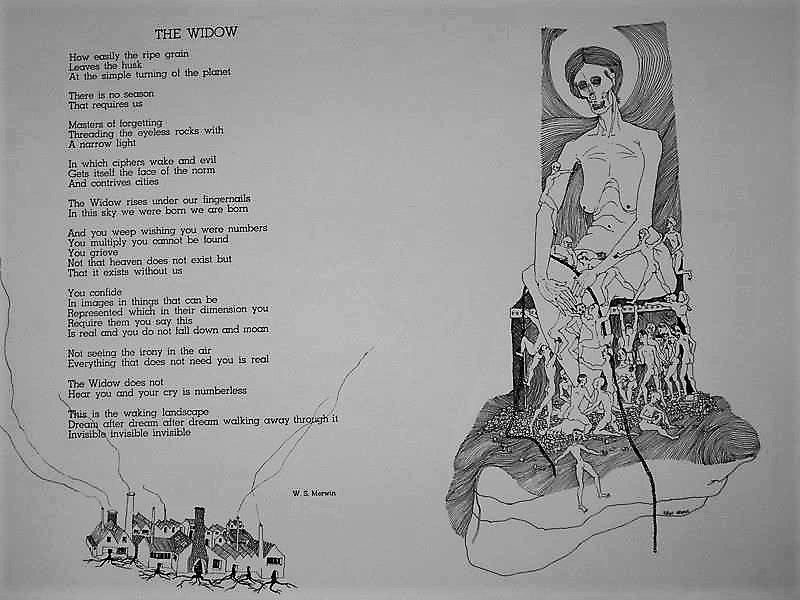 The Widow - first published 1964 M.S.Merwin Illustration Serge Arnoux

Merwin and Ferré will be the subject of an upcoming blog to further discuss their collaboration with Arnoux. From 1963 to 1968 Ferré lived in a 16th-century castle, named Pechrigal, near Gourdon in the Lot where he along with Arnoux published a number of publications including the "ALMA MATRIX." We have a house about 20 kilometers from Gourdon in St Cirq Madelon so planning to visit in the next couple of weeks. You never know, might throw up some more clues. Worth reading if only to find out more about the very special relationship Ferré had with a chimpanzee named Pépée!!
All of the plates found in the scrapyard are etched in a surrealist style, often I might add with sexual references. I think that might be a strong infuence of Ferré. The painting below is from 1965 and suggests that he had always been drawn to an abstract/surreal style.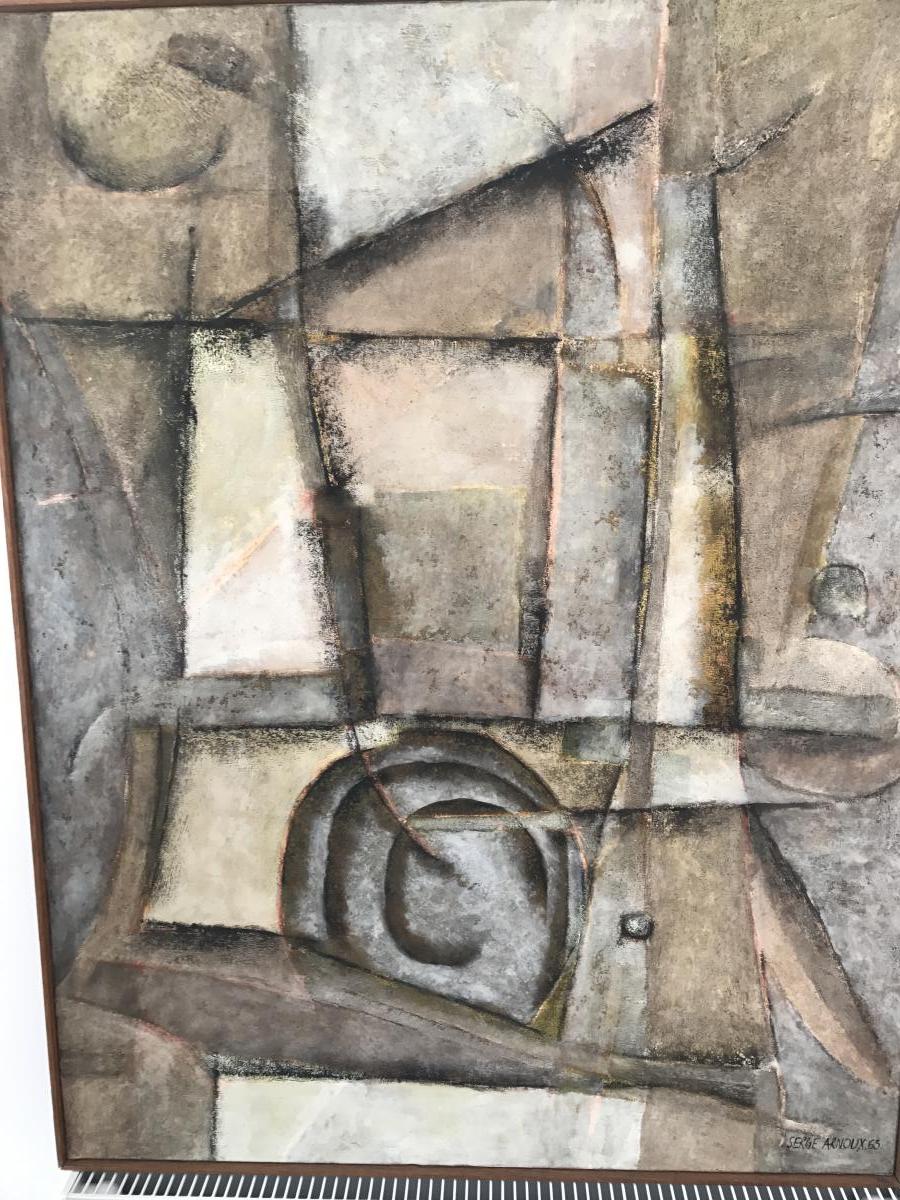 Oil Painting 1965 Serge Arnoux
As well as working with other artists Arnoux obviously made work under his own name. The Blake plates it would seem were destined for a book but never made it to print. One that did make it to the bookshelf was this interesting idea.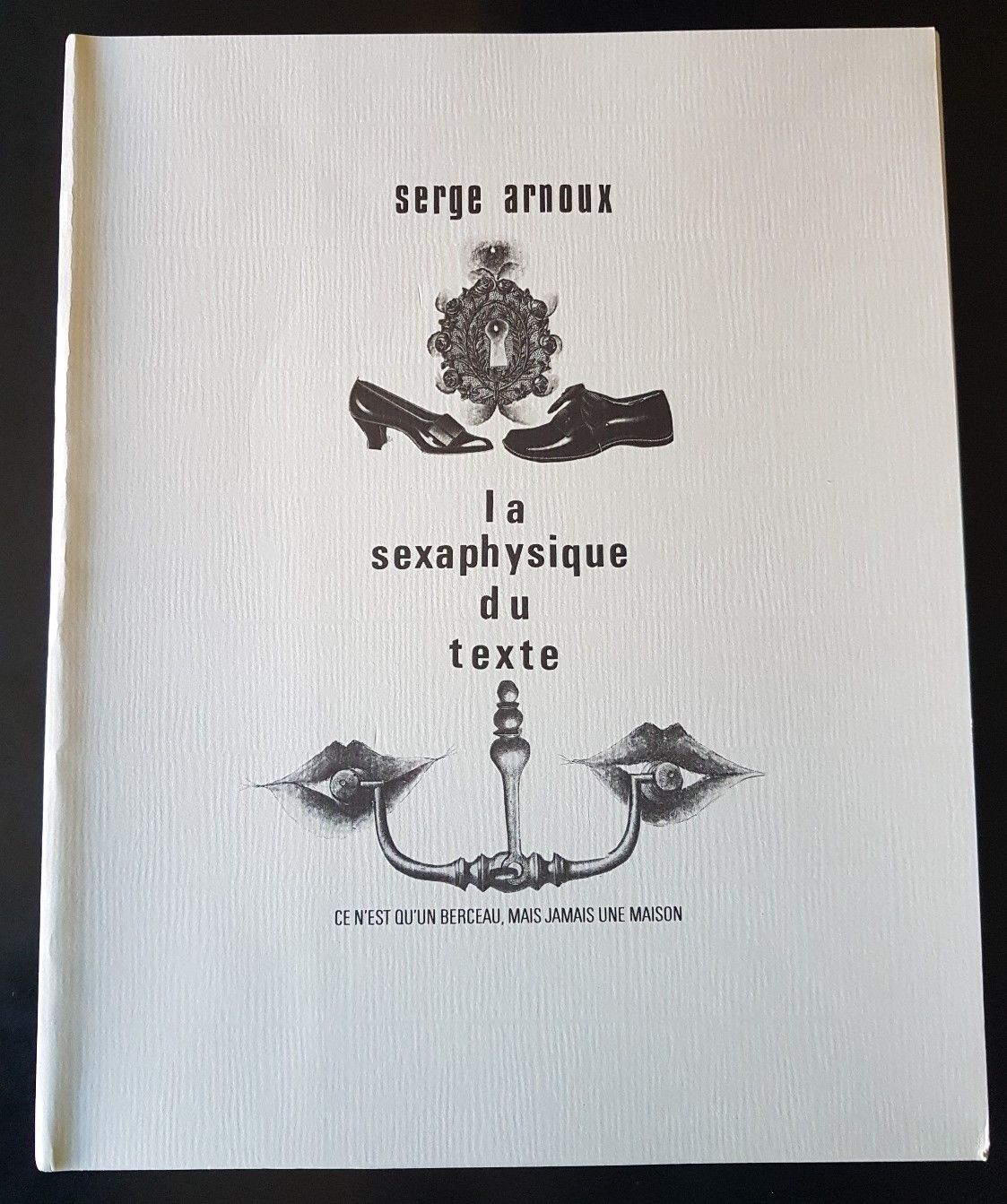 Quite a title! The booklet was printed in large folio format, 23 double pages with typography and layout in the manner of the surrealists. The edition was 1000 copies and is now reasonably rare and collectible. Below are some pages from the publication.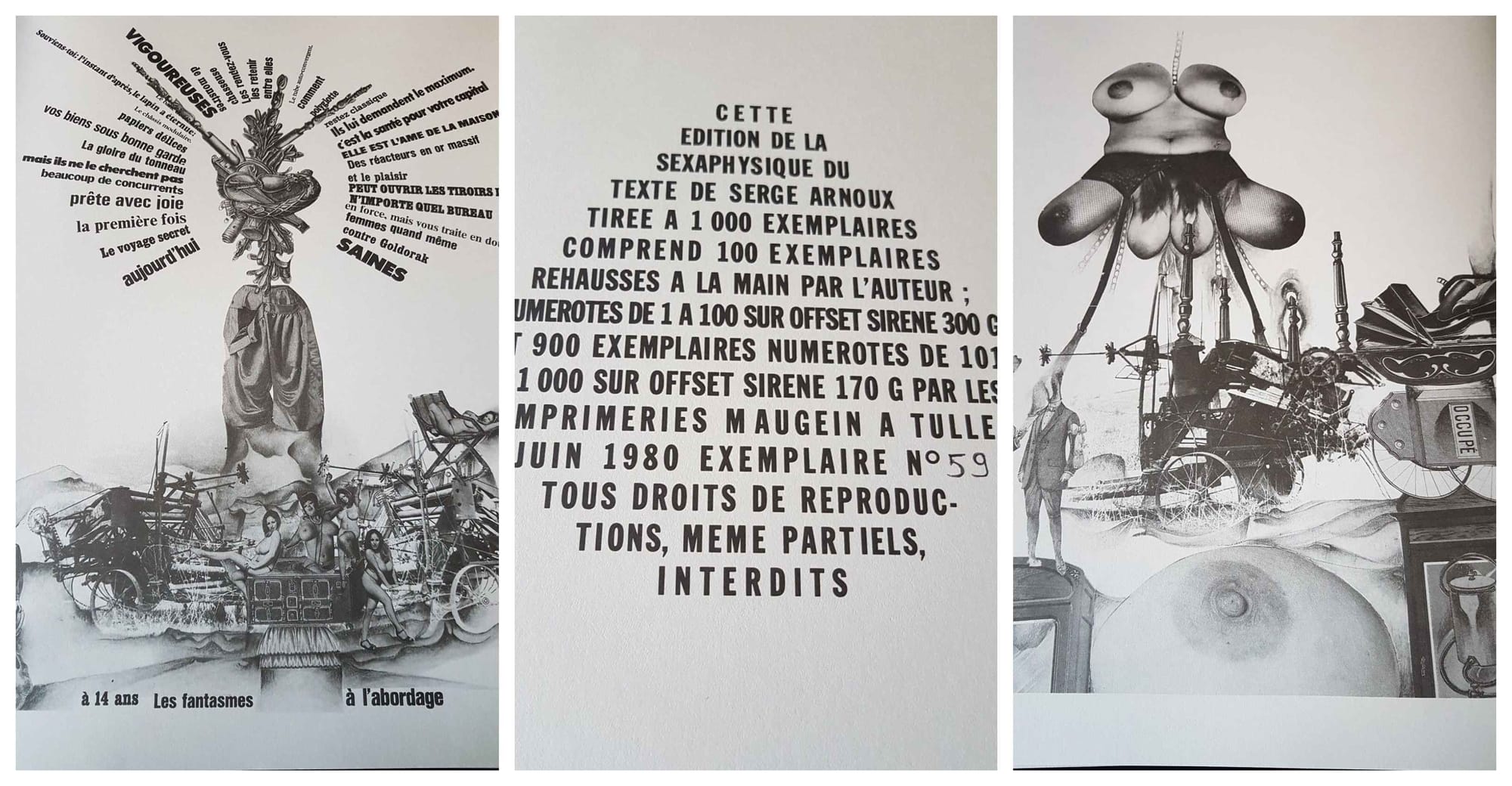 As you can see above, this booklet had some sexual references that I have already alluded to and which feature strongly in "The Lost William Blake Plates"
So there you have it, a quick introduction to an artist who until six weeks ago I had never heard off. Glad I made the visit to that scrapyard! I would like to add that the Serge Arnoux associated with the film MOAMA and submarine diving in Tahiti is not the same person. He recently died in Tahiti at the age of 84. An interesting story though if you want to dig deeper.
Going to finish with a couple of proof prints I have already made from the "Found Plates." The one on the right is based on the "The Marriage of Heaven and Hell" and the other, well at this stage I don't know. It had the word "Autoportrait" on the wrapping, so maybe a piece for a collaboration with Léo Ferré. I do have the original French text for each plate and I am gradually translating into the corresponding line in English from the original proverb. Interesting to see if anyone figures out what the image on the right represents.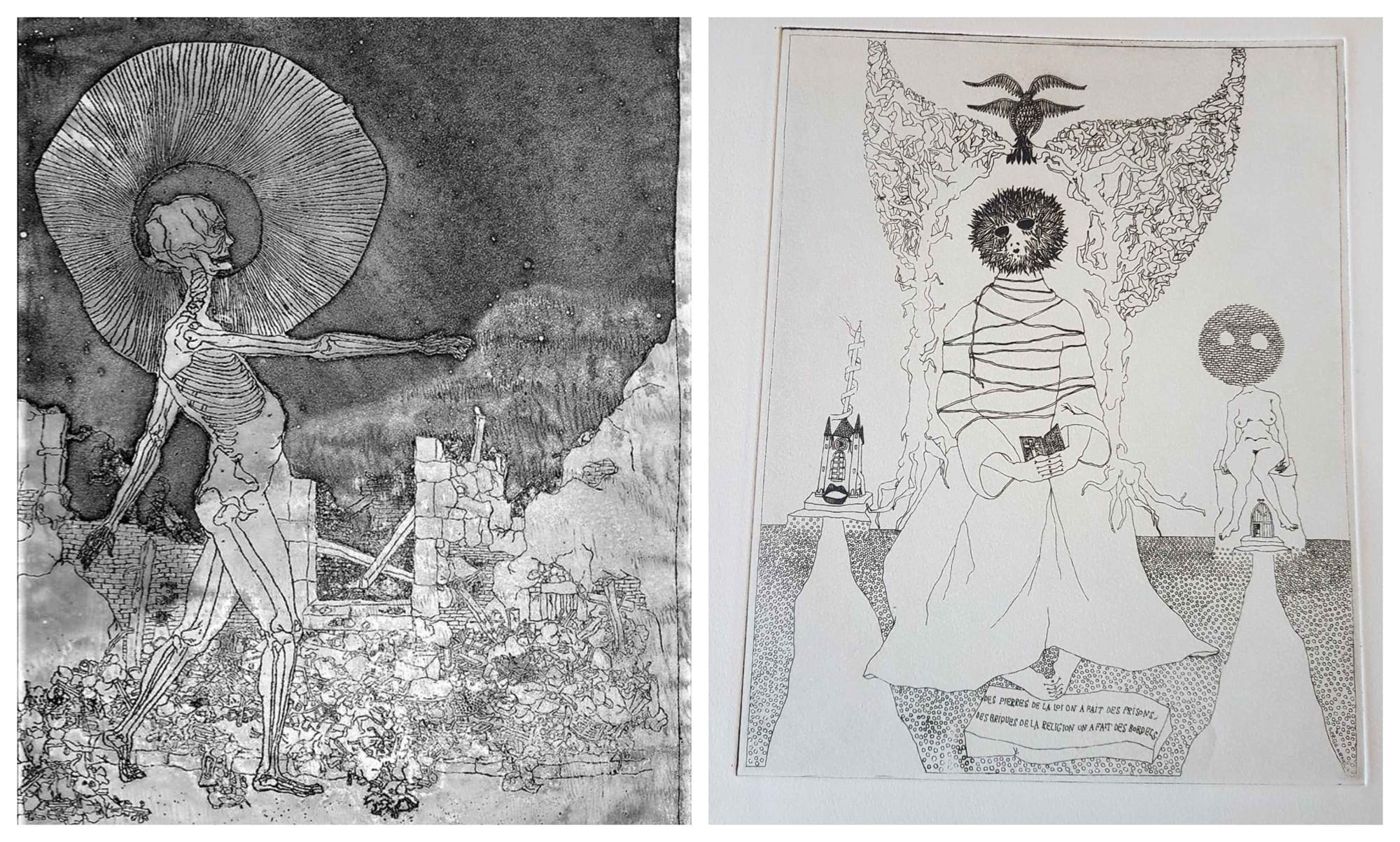 Mentioned surrealism a number of times so that is what the next blog will be about. Not really qualified in the subject, but no matter as we now have Wikipedia! As such it's going be more of a travelogue and will document recent visits to the house and museum of Dali in Cadeques and Figures Spain and also the Modern Art Museum at Ceret France. Hope you have enjoyed reading this one!