Below is a copy of the current article written for the Finding Blake website

Introduction by Finding Blake
Back in September 2018 Robert Campbell Henderson found and bought of a number of copper plate etchings by deceased French artist Serge Arnoux . We featured the story in October as an introduction to his account of what turned out to be an unexpected French connection with the legacy of William Blake and The Proverbs of Hell. The etchings had a strong surrealist style and at the time of the post, little was know about them and why they ended up hours from almost being melted down. Robert has now provided us with this short research update as to how things are progressing as a prelude to sharing the the full series of prints as a featured gallery on the Finding Blake website.
Serge Arnoux, Surrealism and William Blake
Who was the artist Serge Arnoux?
If you do a search on him you will find very little. In fact you are more than likely to get confused by his rather more famous namesake who directed the film "MOANA" in the South Pacific in 1959. Arnoux the artist lived in Glanes in the LOT region of France where he had a gallery as well as shops in St. Cere, St. Cirq-Lapopie and Bonafacio, where in order to make a living sold silk-screened cushions, scarves, dresses, wall hangings and lithographs.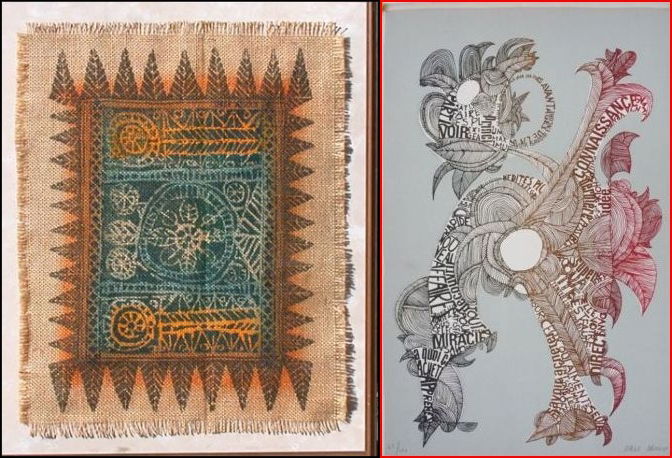 Textile / Lithograph by Serge Arnoux
On the death of his wife in 2016, a couple of years after him, their stock and furniture was sold at auction, but not, it would seem, the copper plates as they were not listed in the sales catalogue. Much of what he made was beautiful and craft orientated, driven no doubt by the need to sell work, but I have anecdotal evidence that he longed to devote his time to what he considered real art, much to the annoyance of his wife, who by all accounts was the more practical of the two. As such Arnoux forged relationships with other artists whenever he could, in what is a rather remote and provincial area of France. These connections seem to go some way to explain the story and what may have influenced him when making the etchings.
The Artist Connection
A major breakthrough in the research into the background to the story was input from Martha Daura, daughter of Catalan/American artist Pierre Daura. After reading the initial post on "Finding Blake" she made contact and has provided, as you will read below, personal and first hand knowledge of the period when Arnoux made his series of etchings based on the "Proverbs of Hell".
As an artist Pierre Daura mainly worked in landscape, portraiture and still-life. He began engraving and etching in the late 1910's and continued until 1939. He also sculpted for many decades. He spent his childhood in Barcelona before moving to Paris where he was a founding member of Cercle et Carré [Circle and Square] a group of avant-garde abstractionists which included the likes of Joaquín Torres-García, Hans Arp, Kandinsky and Piet Mondrian. The group published a journal with the same name in 3 issues and in 1930 organised an exhibition in Paris showing 130 abstract works by various artists. The group was short lived but Daura continued to work in abstraction throughout his career. Daura left Paris for St Cirq Lapopie in 1930 and subsequently moved to the US in 1939, spending only the summers in St. Cirq after the war up until 1974. In 2001 the house was donated by Martha Daura to the Region Midi-Pyrenees and is now an international artists' retreat.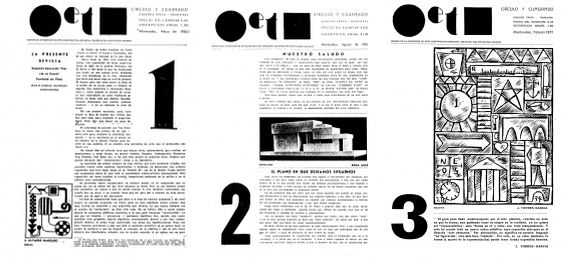 Cercle et Carré Publications 1929/30

Arnoux moved to Glanes in the Northern part of the LOT in the mid fifties and despite the distance between their houses he and Daura became great friends, meeting often and communicating by letter to discuss ideas and work. I have been told by Martha Daura that her father actually taught Arnoux printmaking. She also speculated, amongst loads of other great information, that the Blake prints were likely from around the late sixties/early seventies although it's difficult to be precise, and that they were never actually intended for a book as I had first surmised but as a boxed portfolio.
St Cirq Lapopie became the home of the founder of Surrealism André Breton from 1950 until his death in 1966. He spent every summer there and was a neighbour and close friend of Daura. Breton and his entourage of artists were a big presence in the village and possibly influenced and interacted with Arnoux, hence his surrealist approach. Speculation but more than plausible!

A small selection of paintings and gravure covering the period 1929 - 1971 Pierre Daura
Pierre Dauras' legacy was donated to the Georgia Museum of Art USA and includes all the correspondence between him and Arnoux something which I feel will provide a deeper insight into the work. I am in contact with Nelda Damiano, Curator of European Art who oversees the Pierre Daura Archive and who kindly has agreed to release and send me copies of this material. The archive has over 500 pieces of work by Daura which you can view on the GMOA website. Take me to the archive
They also hold nine original prints by Serge Arnoux in their permanent collection that were gifted to or were part of a collaboration with Daura. Part of my find in the scrapyard included five of the original copper plates for these prints. The two on the left are from the collection and I have a third of what to me seems like a triptych. I think these were made and destined for a poem or some sort of writing (probably not Blake although they do have a rather mystic and surreal feel) as Arnoux rarely made prints as stand alones. The original titles of the prints are "View of a Town," Town with a Curtain" and "Lost in the Town"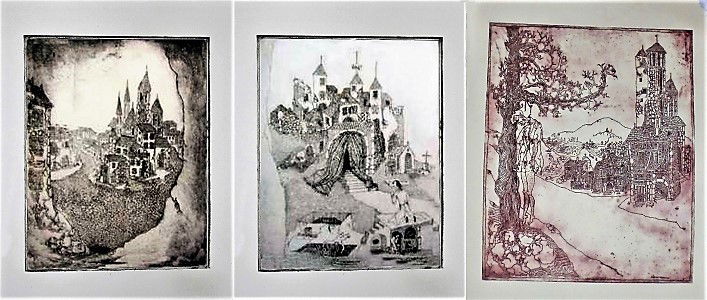 Serge Arnoux circa 1970 Printed by RcH 2019 33cm x 24cm
The Poet Connection
The relationship between Arnoux and American poet MS Merwin, who is now based in Hawaii, was touched upon in my first post. Merwin, twice American Poet Laureate, had a house in Le Causse de Gramat LOT France nearby to where Arnoux lived. During his time there where he wrote many of his poems, some of which were illustrated by Arnoux. When Merwin met with President Obama at the White House for the inaugural reading, in what was his second spell as Poet Laureate in 2010, he quoted William Blake as below:
"The tree which moves some to tears of joy is in the Eyes of others only a Green thing that stands in the way. Some See Nature all Ridicule & Deformity & by these I shall not regulate my proportions...."
MS Merwin is a strong conservationist (check out The Merwin Conservancy) and it would seem from the above that he may have been influenced by the work of Blake, so I think it's a fair assumption that he in turn may have influenced Arnoux or it may of course have been vice versa!

W. S. Merwin's first three broadside publications, simultaneously published with illustrations by Serge Arnoux

The Widow / Things / A Letter from Gussie
And then there is French poet, writer and composer Léo Ferré. Arnoux met Ferré in the early sixties in St Cere and worked closely with him over the next decade. He actually found him a house, the 14th century Château de Pechrigal near Gourdon LOT where Ferré lived along with his Chimpanzee "Bubbles." Ferré and Arnoux worked together at the Chateau on a number of publications, even installing their own printing press. Ferré had long been associated with the surrealist movement from his time in Paris although latterly he would reject the ideals of the movement. One of the publications they made together was the Alma Matrix / La Mémoire et la Mer. Below is an extract from a review of the book. Seeing the images I think it's fair to conclude Arnoux was influenced by Surrealism, many of his interpretations of the "Proverbs of Hell" contain quite graphic images of sex and nudity both key Surrealism codes.
reaction to a dozen or so aphorisms and "sexual" verses proposed by Léo, Serge Arnoux made some forty "automatic" drawings; especially female bodies with fantastic shapes, directly inspired by Hans Bellmer. The initial ambition of the duo is to offer full page and create collages that can unfold in relief on double-pages.
Of course he could well have been influenced by the man himself! Blake was not shy of using naked flesh in his art and poetry, and for me looking at the work, sometimes for the first time, I wonder what drove Blakes imagination. People with more brains than me have tackled that particular subject! Below is a familiar, much analysed Blake work "Last Judgement," with it's teeming nudes, alongside the back cover from the aformentioned Alma Matrix. On first glance, not the obvious sexuality as in some of the etchings, but there does seem to be something going on, I leave it for you to judge!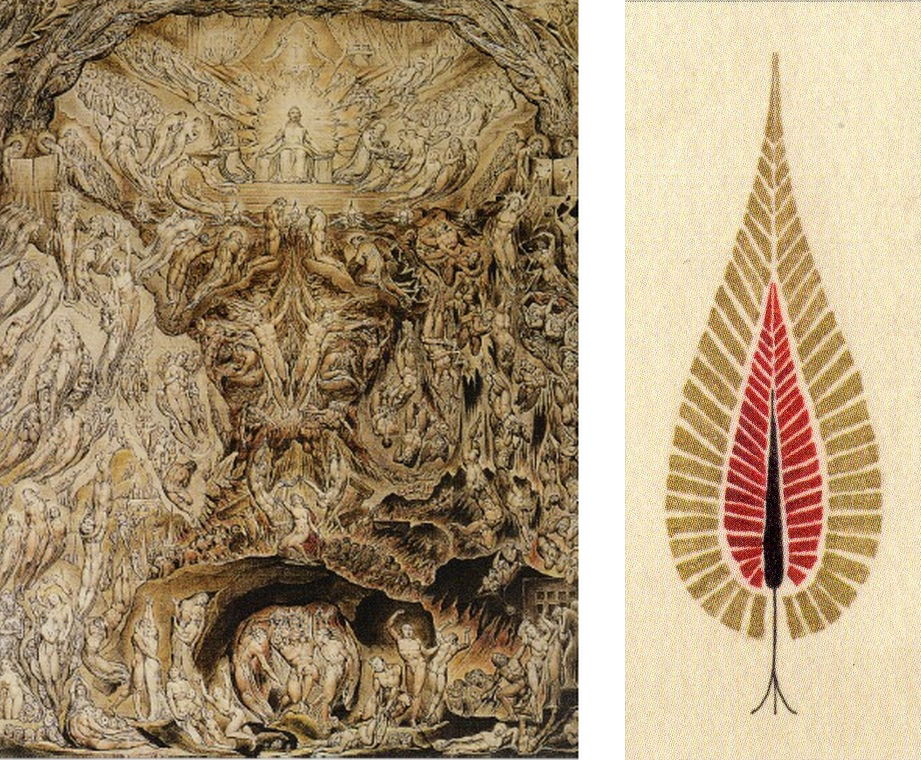 The Printmaking Connection
As already mentioned in the introduction I am going to print the full series of twenty six etchings that I found and feature them on the Finding Blake website as an exclusive gallery sometime in February. The actual prints will be printed on Fabriano paper with Chardonnel etching ink and are all the same size 33cm x 24 cm.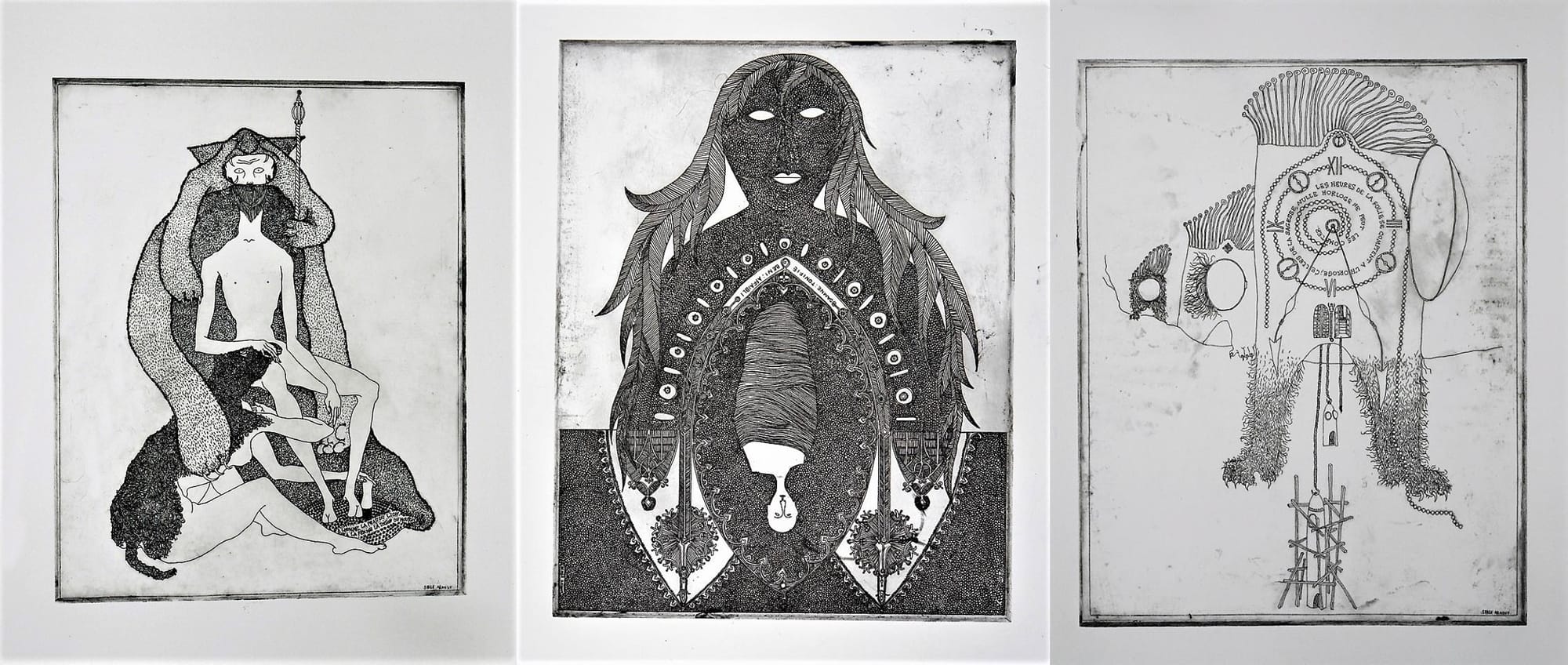 Proverbs of Hell : Interpretation by Serge Arnoux circa 1970 Printed by Rch 2019
"Let man wear the fell of the lion, woman the fleece of the sheep"
"Damm Braces : Bless Relaxes"
"The hours of folly are measur'd by the clock, but of wisdom: no clock can measure"
All of the prints are, what is often referred to as plate signed, by Serge Arnoux, and all feature the French translation of the proverbs as part of the print. I will add the original English text of the corresponding proverb in pencil to each print. As yet I have not established whether Arnoux made etchings based on all the proverbs, rest assured I make regular visits to the scrapyard on the off chance they make an appearance! I hope you will enjoy seeing the work and of course make any comment you see fit. There is already an exhibition of the prints planned for France in June of this year but if anyone is interested in an opportunity to show the work please get in touch. You can read more about all of the above and lots more including a semiotic analysis by Dr Philip Rayner of the Arnoux interpretation of "Exuberance is Beauty!" in the ongoing blog on my website at https://www.photokennel.com/exhuberance-is-beauty