A lot of my recent projects have been based on found material by known and sometimes unknown artists. This new work is no exception. So who is Christian Vidalier? Google him and you will be rewarded with almost ziltch! He was however a prolific and some would say slightly eccentric artist and sculptor from Marseillan. Yes, the same Marseillan where I currently live.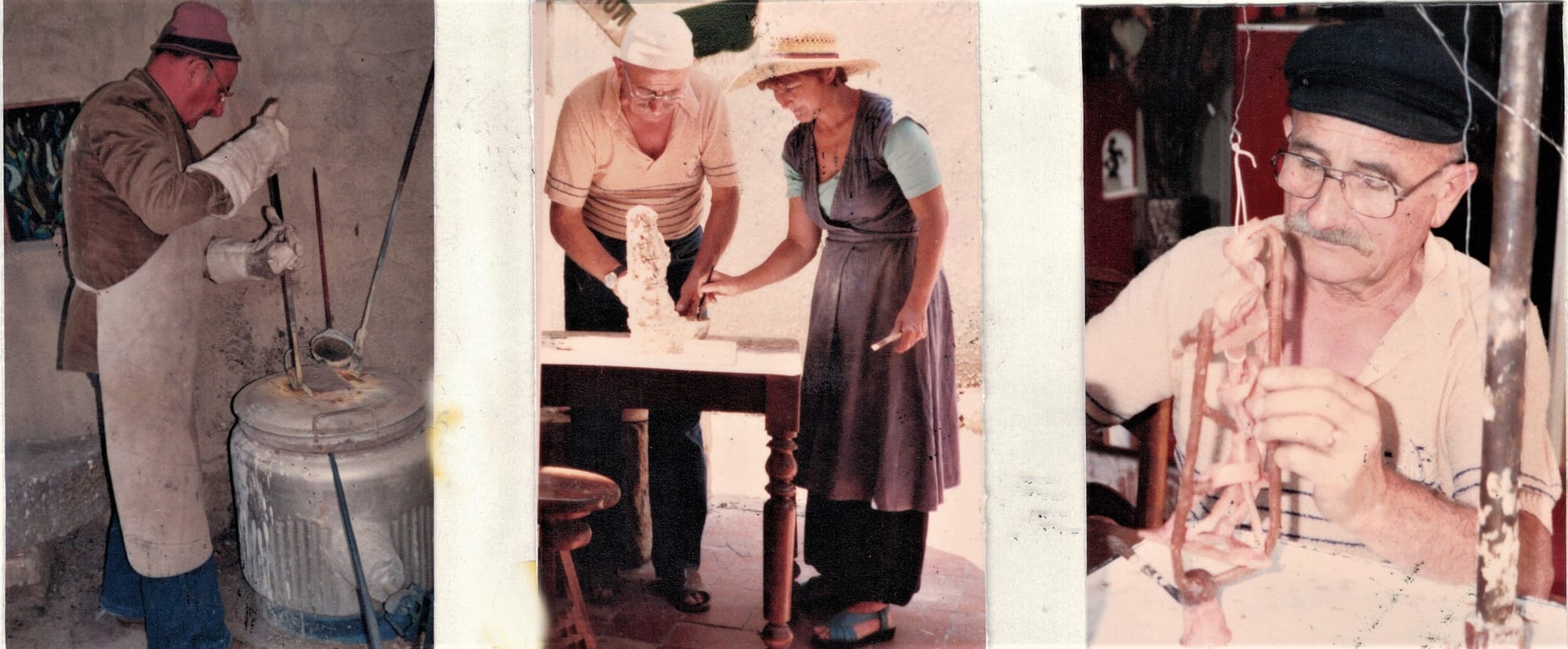 Christian Vidalier working in his Atelier
He is probably best remembered for a commission to renovate the statue Christ de la Croix Marseillan in the early nineties. The statue was damaged when being moved. He used his own arm as a model for the replacement. I have noticed that hands and arms feature heavily in all his work.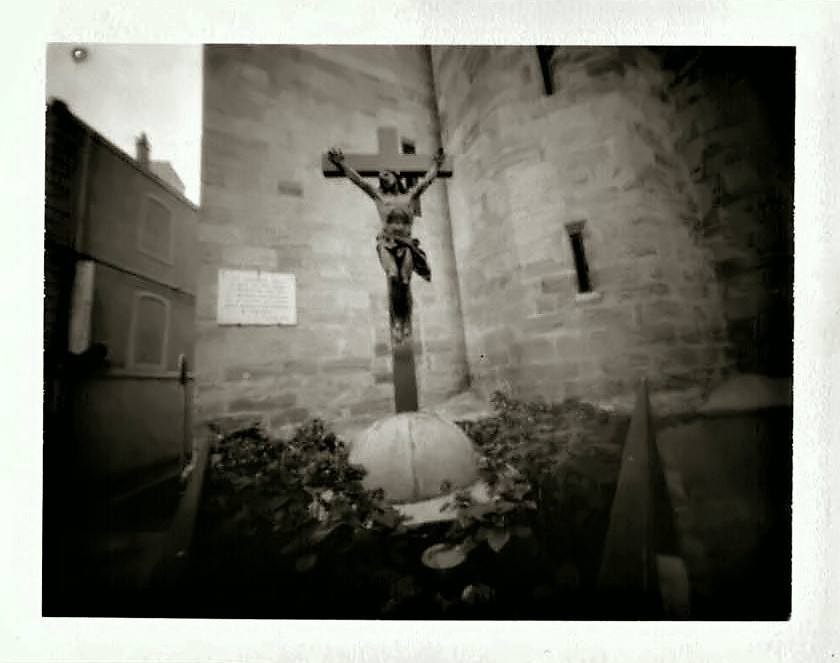 Christ de la Croix Marseillan / Pinhole Photograph RcH 2018
His work rarely made it beyond 30 miles from the town but by all accounts this was a career choice. He did however feature in Girouttes Expo Paris at Porte de Versaille in 1980 as well as Expos in Marseillan, Séte and Beziers between 1983 and 1985. He was keen to share his art with others and set up an association to educate, exchange ideas, discuss techniques and facilitate practical workshops for the residents of Marseillan and beyond. Wish I had been around here when all that was happening!

Expo Marseillan France 1986
After he died his work remained at the house where his wife continued to live and subsequent to her death everything was sold but the immediate family decided that they did not want to retain any of his work and gifted it all to the new owners. Shame but they must have had their reasons. I got the chance to look at it a couple of months back and was struck by how much it reminded me of artists the likes of Zadkine, Giacometti, Lipchitz and Brâncuși.

Most of the pieces were either randomly against walls, stacked in storage, or placed around the garden of his former home. With the new owners permission, I have photographed what I can, and decided to present it in a more contemporary way and maybe give the work a second life and the opportunity for others to see it. The initial gallery concentrates mainly on his wooden sculptures with a few large scale bronze casts. He also made a wide selection of small bronze casts which will be featured in an upcoming gallery. Around the town of Marseillan much of his work is in evidence especially his work with large glass panels. Below are some photographs from his personal portfolio of "Le Gemmail Marseillan" which you can still see in the foyer of the Salle de Fetes Marseillan. It took four months to make, was 2.5 metres long, weighed 300kg and included 1300 individual pieces of glass in 32 colours. I have seen at least another 3 of these large scale pieces of work. I hope to be able to photograph these in the near future and share them on here.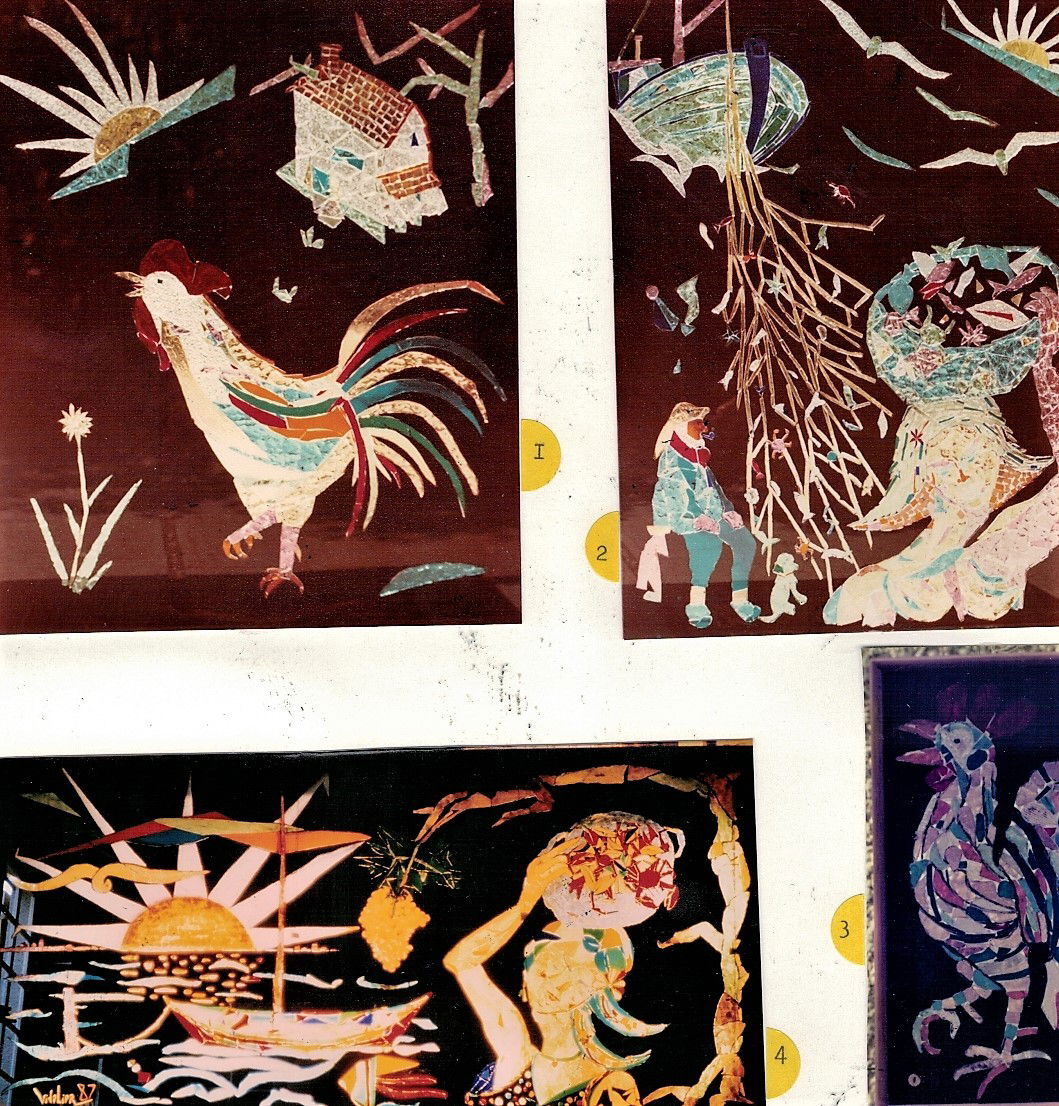 GEMMAIL Sales des Fetes Marseillan - Christian Vidalier
Themes : Marseillan - Soleil - Mer - Poisson - Barque de Thau - Vigne - Coquillages - Marseillannaise
Take me direct to the gallery of sculptures