I mainly worked in marketing and corporate presentation until about the year 2000 when at fifty years old I decided to do a MA Photography. This was followed by a few exhibitions, before setting up a couple of art galleries "Gables Yard" and "Dark Mirror" in Pulham Market and Norwich Norfolk UK. The galleries showcased work by photographers, painters, sculpturs and printmakers from throughout the world including George Krause USA, Andy Goldsworthy UK, Esteban Pastorino Argentina, Mark L Power USA and Susan Gunn UK amongst many others. After a couple of years however I decided to pack it all in and quit the rat race and move to France. This was 2006 and with house renovations, sun and wine, the art fell by the wayside. You can only sit by a pool for so long however before getting bored. In 2016 I spent some time at the Ecole de Beaux Arts Séte where I made the work Dark Mirror which was followed by a couple of exhibitions. Realising how much I had missed the "life of an artist" I quickly got back into the groove and started to make a lot of work, initially in photography, especially Polaroid, but now incorporating all types of printmaking and a bit of sculpture. Set up an etching studio and have recently added a darkroom to facilitate a return to analogue photography. With social media and the internet it's now a lot easier to actually show the work hence this website.
Top : Gables Yard Gallery Centre : Dark Mirror Gallery Bottom : Ecole de Beaux Arts Séte
---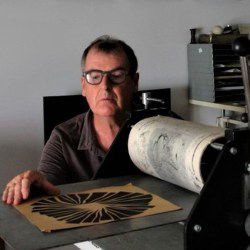 Thanks for looking and I hope you enjoy what you see and read.