A LITTLE BIT ABOUT ME
Before 2000 I never really made any art or did much photography. No time, as I was busy with the "day job" At that time approaching fifty years old decided I had to do something different so did a MA Photography at De Montfort Leicester after which had a burst of activity for 3 or 4 years and participated in a fair number of exhibitions.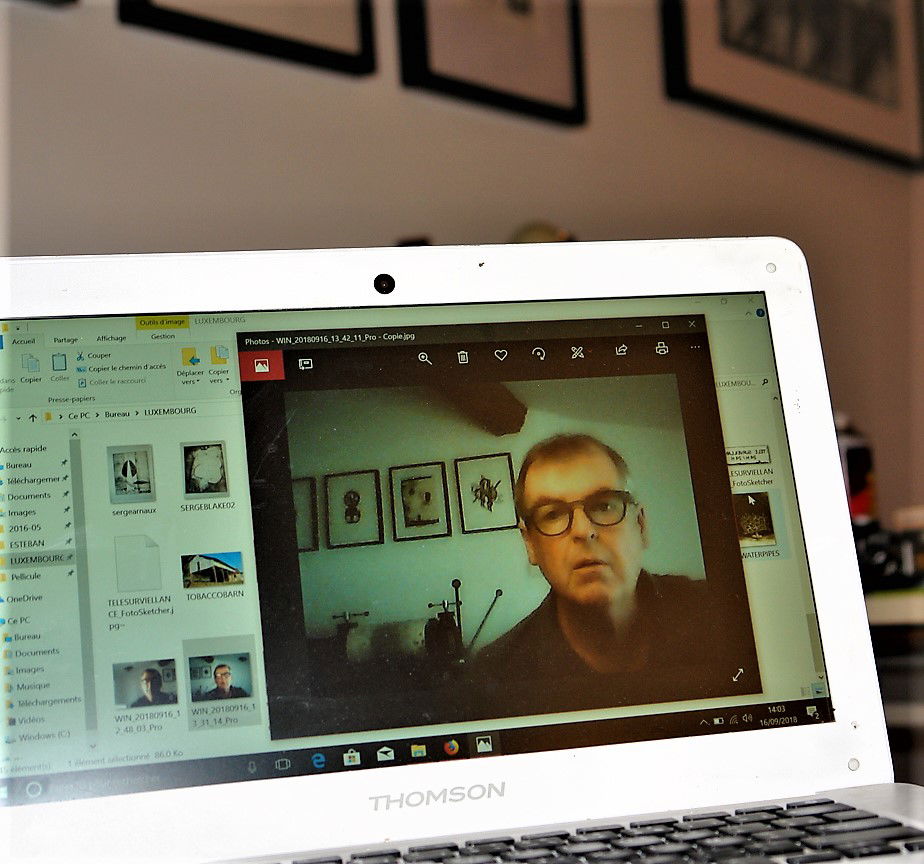 If I am honest I traded mostly on my MA work at that time. Decided to move to France and with house renovations, sun and wine, the art sort of fell of the radar. You can only sit by the pool for so long before getting bored so decided to get back into the flow and spent some time at the Ecole de Beaux Arts Séte to refresh my ideas. Social media and the internet now makes things easier and more practical to show work hence this website. Below is some information about the work you can see on the site.
---
PORTFOLIOS
CAMPBELL HERE
The black and white images featured in the CAMPBELL HERE gallery are some 17 years old. For those not familar with the Diana camera, its cheap, made of plastic, uses 120 roll film and has a bit of a cult following.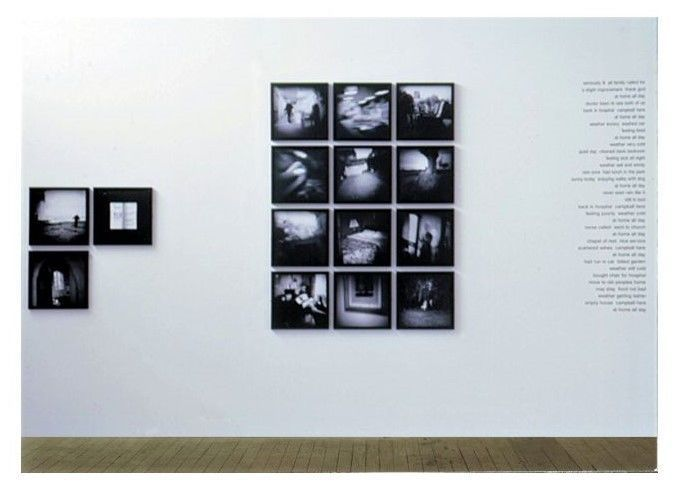 The images form a body of work "Campbell Here" which was selected by Mary Kelly and Peter Wollen for EAST 2001 at the Norwich Gallery. It was also part of Days of the Dead : Celebration, Commemoration, Cult, at the Sainsbury Centre for Visual Arts, Norwich July 2002 . The work was interlinked with text from my fathers diaries.
---
INFLECTION POINT
This is a series of photographs made from montaging found negatives from the period 1922 - 1926 bought at a vide grenier in the South of France. An inflection point is the mathematical term for a point of a curve at which a change in the direction of curvature occurs or more generally a time of significant change in a situation; a turning point.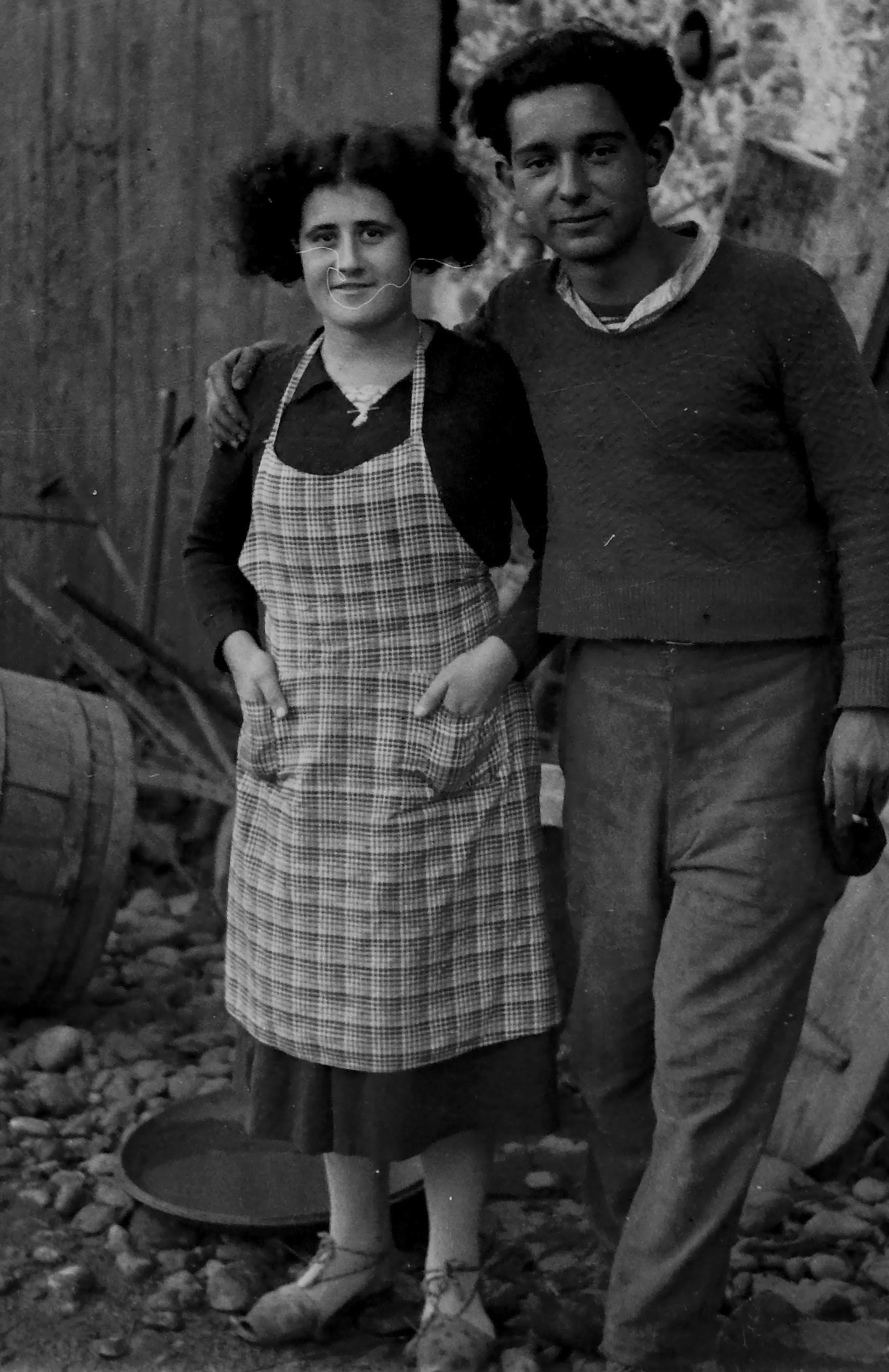 ---
PRINTMAKING
The images in this gallery are mainly intaglio type drypoint and mezzotint but there are also examples of other processes such as relief, eau forte and lithography. The drypoint images are created by drawing with a sharp, pointed needle onto copper or zinc plates. Mezzotints are produced on copper plates and involves the extensive rocking of the plate surface to create a solid black and then burnished and scraped to create the tones. This is only a small selection from a more extensive portfolio.

---
OYSTER/HUITRE - INVERSION OF SUSPENDED CULTURES
An ongoing project to make temporary land art sculptures using re-cycled oyster poles from the Etang du Thau. Started to make oil prints from the images and will create a gallery when complete. For the moment you can see the original colour photographs from the series.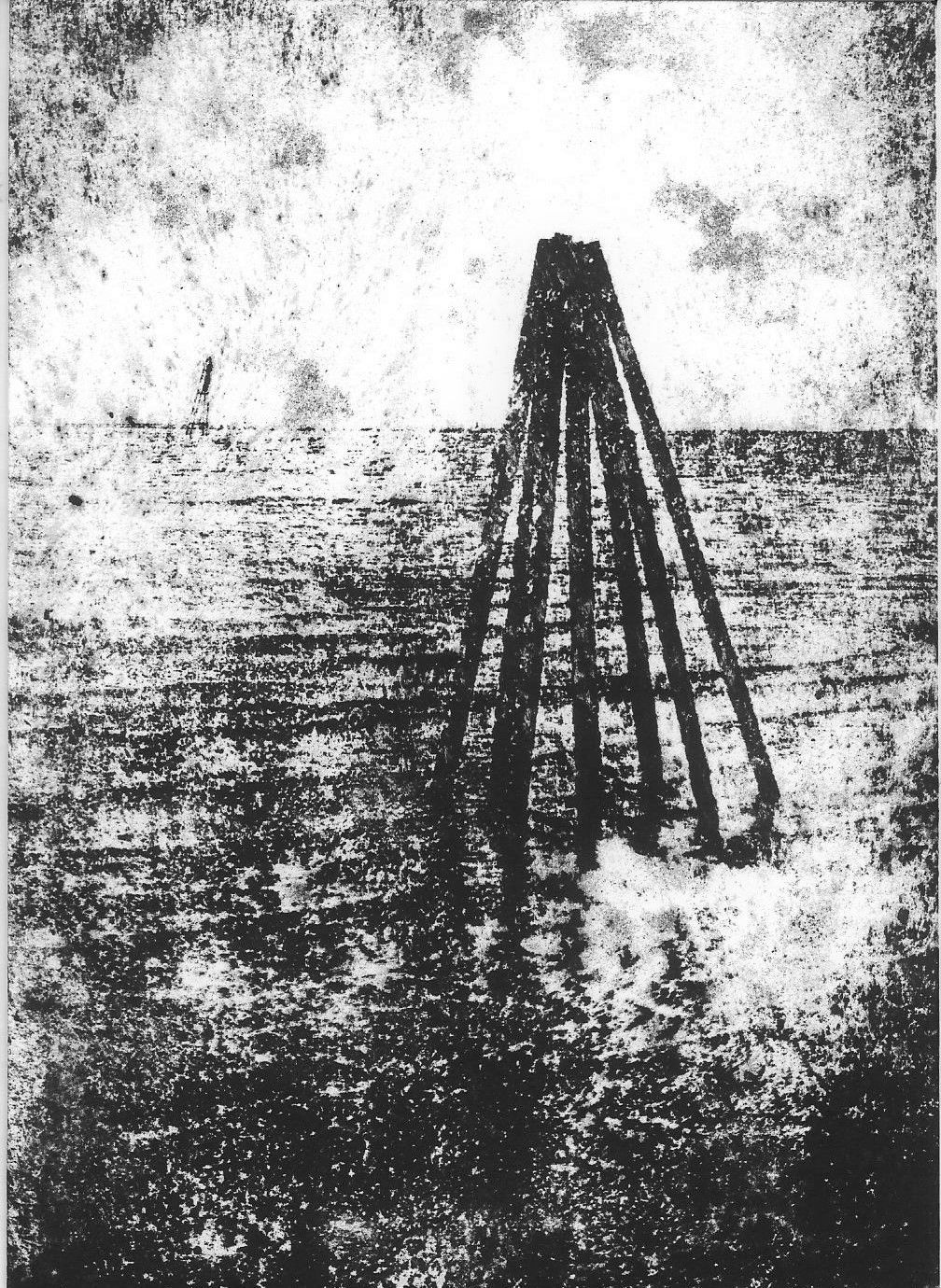 ---
POLAROID
DARK MIRROR
All the photo images in the DARK MIRROR galleries are image transfer and emulsion lift using pull apart instant film which develops in about a minute, so if the process is interrupted and the film is pulled apart, the dyes can be made to transfer to another surface. The imperfections of the process, including color shift and unique texture, impart a unique and individual aesthetic. In emulsion lift you float the emulsion off the surface of a fully developed print positive by 'cooking' it in very hot water. The thin layer of emulsion is then applied to a receiver of paper or just about any kind of surface. Folds and wrinkles are inherent in the process.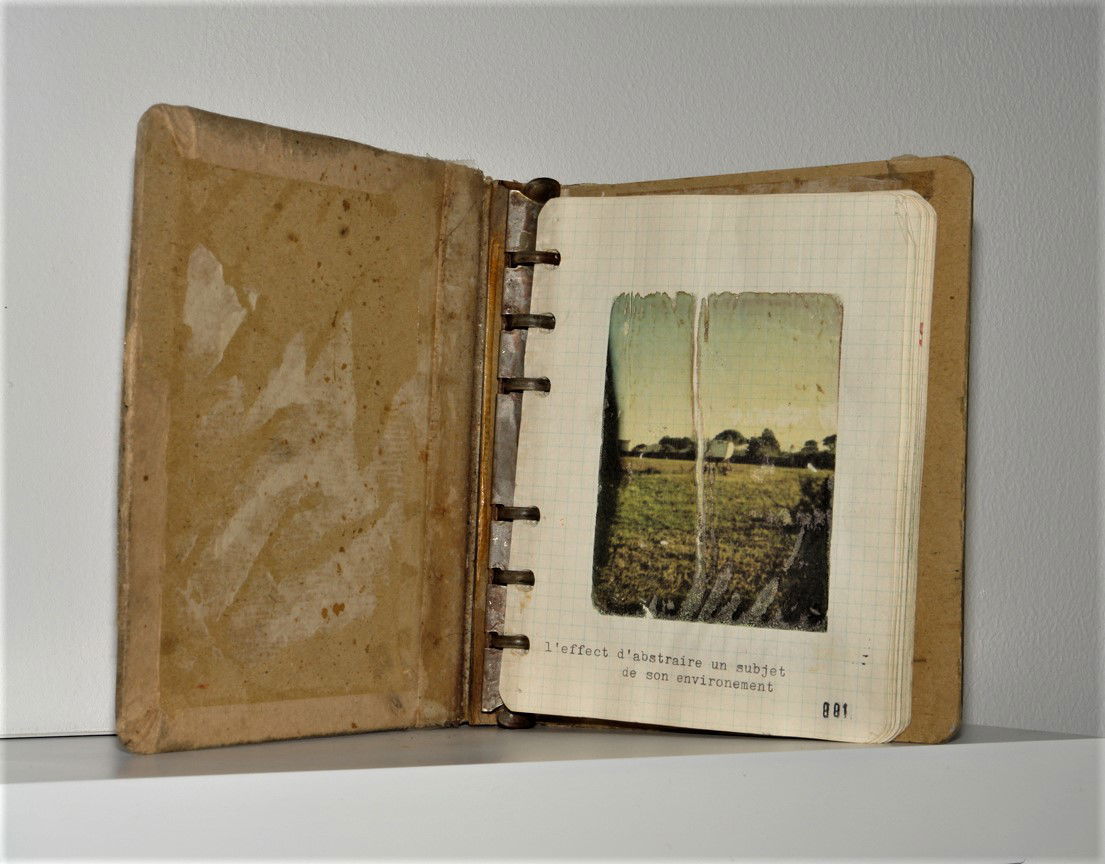 EMULSION LIFT LANDSCAPES
This work is film based which leaves little room for post process. These particular images having been taken over a period of 3 to 4 months. An ideal starting point to make a piece of work that can create a new narrative and different perspective using montage/collage. The abstract image on the homepage is based on this Polaroid montage.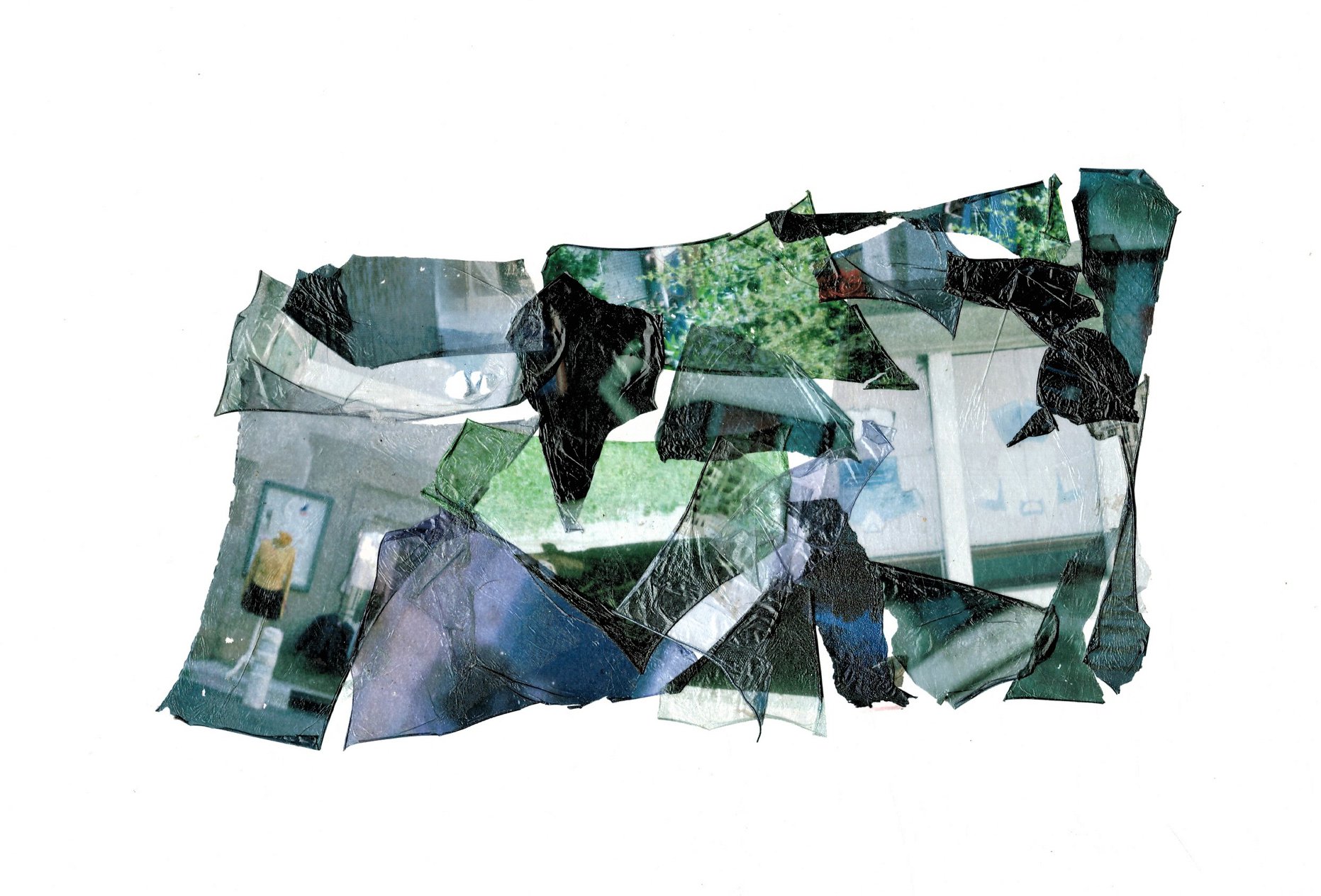 ---
WILLIAM BLAKE BLOG
Recently visted a scrap metal merchant in Sarlat France. Saw some copper and zinc plate which I like for gravure. Negotiated a decent price and bought all 33 kilos. Noticed most of it was wrapped and labelled. Kept stum, paid my money and got out. Turns out I just bought 27 fully etched A4 plates by French printmaker and painter Serge Arnoux in a surrealistic style based on the poem "The Marriage of Heaven and Hell" by William Blake. In addition there were a few plates unlabelled but may have been for Leo Ferré whom the artist often collaborated with on publications . Going to print them all without alteration with full accreditation to the artist Serge Arnoux and hopefully exhibit them next year (2019). The blog will detail the journey.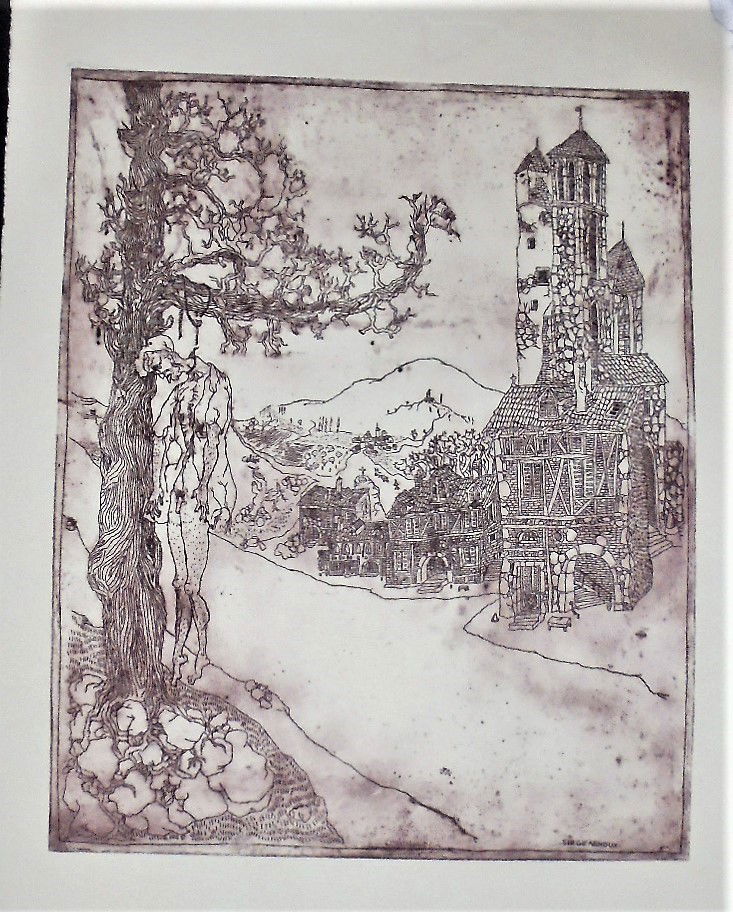 ---
EXHIBITIONS
Photos from the most recent exhibition are available in the gallery "RIEN". A selection from some older exhibitions is available in the gallery 2002 - 2018. Below is the installation PESSIMISME ou OPTIMISME? Affiche Imaginaires - MADLAB 3e CONCOURS 2018 currently running at the Domaine de Taboureich Marseillan.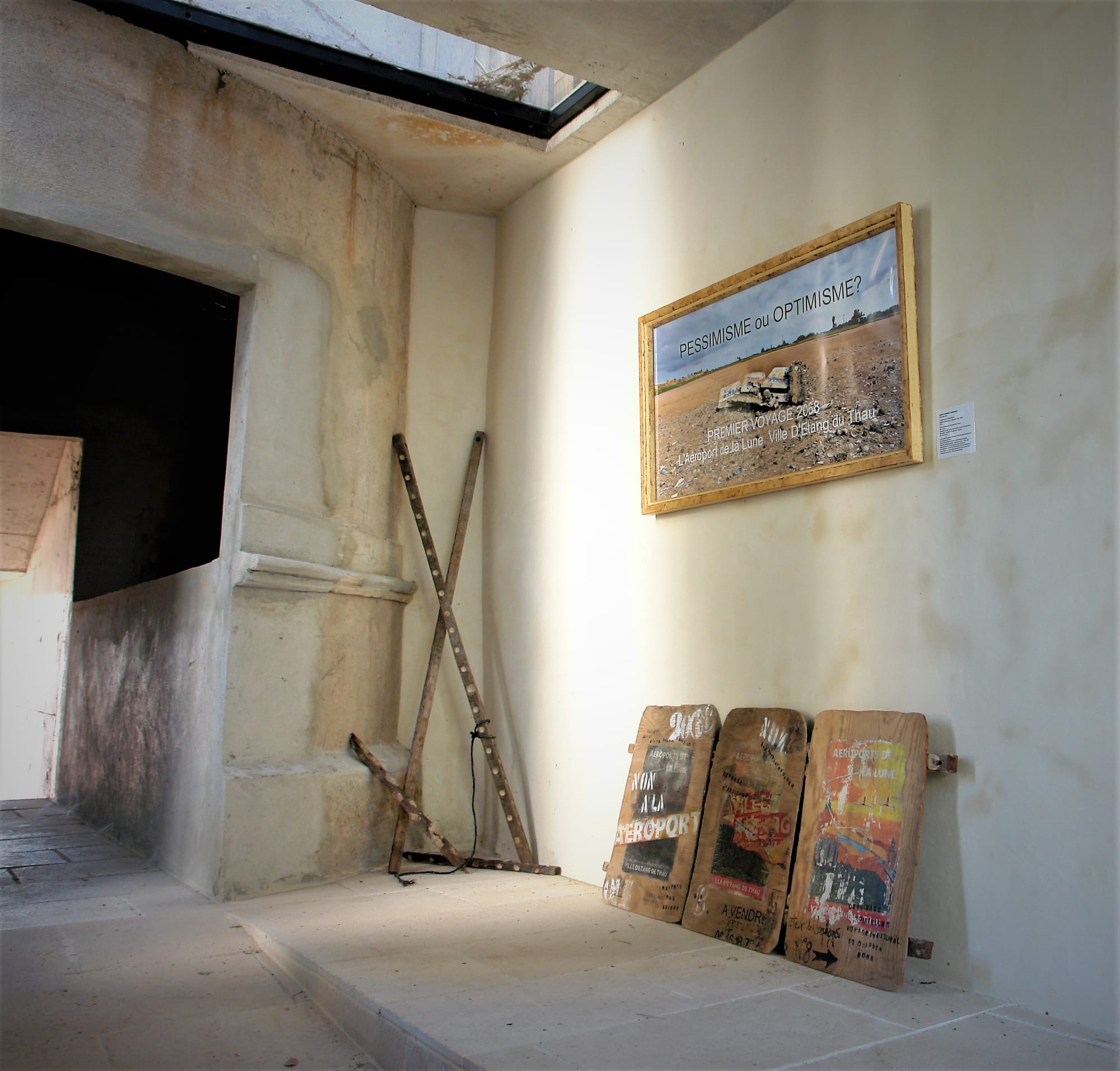 ---